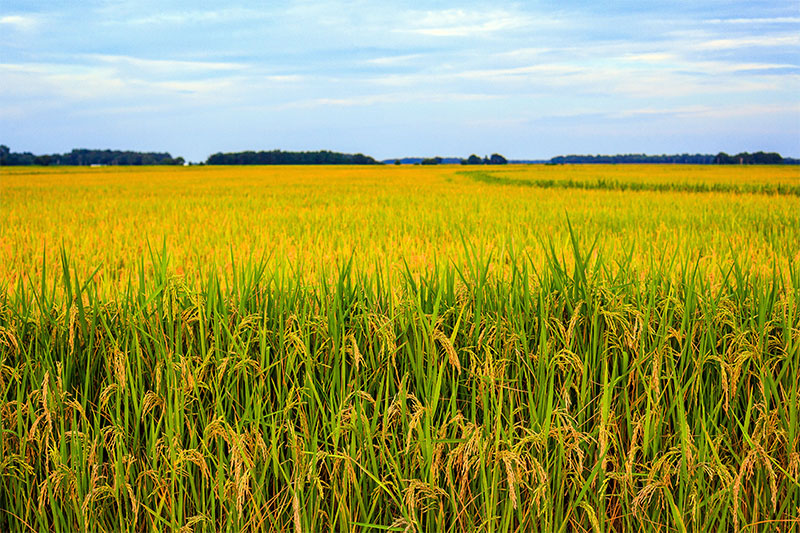 Arkansas
Arkansas is the largest rice-producing state
>1.156 million acres of rice planted on 1,877 farms in 2019
Rice production contributes >$1 billion to the state economy
Overview
If you wish to look deep into the heart of the rice industry, look south. Arkansas ranks first among rice-producing states, accounting for more than 40 percent of U.S. rice production—primarily long and medium grain varieties. Rice production is concentrated in the eastern half of the state, stretching from the Louisiana to the Missouri borders. Arkansas rice is known for its versatility, used in a wide variety of cuisines. It is enjoyed in the United States and throughout the world.
History
Growers in the prairie lands of Arkansas were in need of a dependable, profitable crop. Rice became a contender almost by accident, when W. H. Fuller ventured southwest to Louisiana in August of 1896 on a hunting trip. It was there he first saw rice growing, which ultimately led to the development of a leading agricultural industry for the state. Fuller, along with his brother-in-law John Morris and John's wife Emma, are generally credited with founding the Arkansas rice industry.

By 1910, rice production, research, and milling were established in the state. Today the Museum of the Arkansas Grand Prairie in Stuttgart showcases the history of this major center for U.S. rice production.
Economy
In 2019, more than 1.156 million acres of rice were planted on 1,877 farms. Rice production and processing play important roles in the state. Rice is the state's third highest-value commodity and its top agricultural export. The annual rice crop contributes an estimated $1 billion to the state's economy and accounts for approximately 25,000 jobs, crucial to rural communities.
Environment
The managed rice fields and natural wetlands of Arkansas provide the most important wintering area for North America's mallards. During the winter months, rice farmers capture rainwater in rice fields to create vital resting and foraging habitats for migratory and wintering waterfowl. Winter flooding of rice fields also helps to naturally prevent erosion, control weeds, and protect soil nutrients.
Farmers from the State