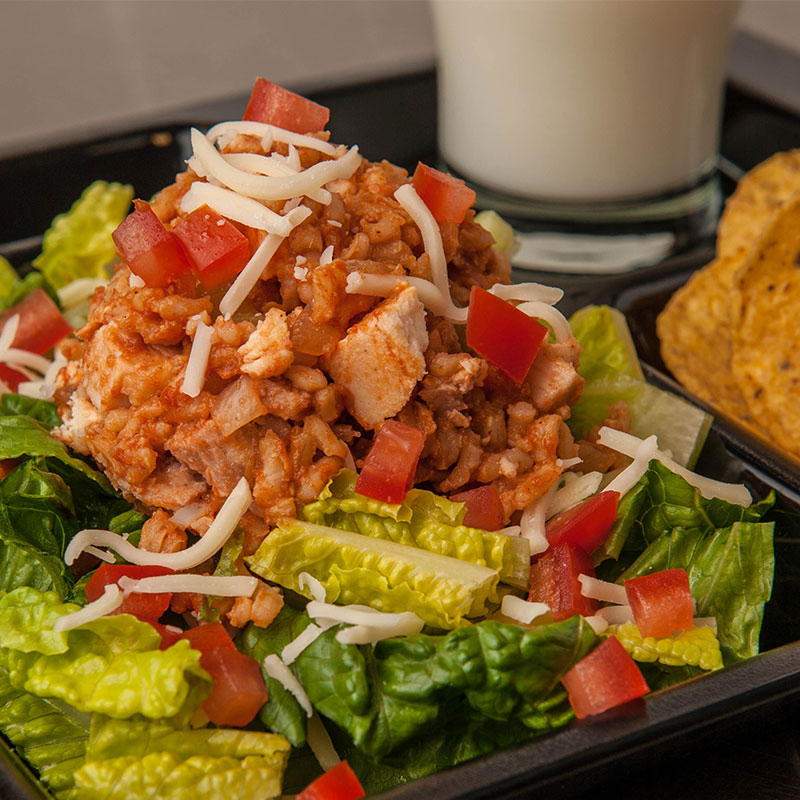 Servings

50

Serving Size

1 entrée salad
Ingredients
4 pounds 8 ounces (30 ½ cup servings) USA Rice Spanish Brown Rice, prepared

6 pounds 4 ounces Chicken, cooked, diced, thawed

8 pounds Romaine lettuce, diced

1 pound 9 ounces Mozzarella cheese, shredded

3 pounds 4 ounces Tomatoes, fresh, diced

25 ounces Picante sauce

25 ounces Ranch dressing, prepared
Directions
Prepare USA Rice Spanish Brown Rice recipe according to amount forecasted or needed. Prepare rice one day in advance and chill rice to 41°F. Store in refrigerator overnight.

In a large bowl combine thawed, cooked chicken with prepared Spanish Brown Rice. Chill to 41°F or below. May be prepared 1 day in advance.

Place 2 ½ cups (8 ounces) diced romaine lettuce in a large grab-and-go salad container or serving tray.

Place one tightly packed, No. 8 scoop of Spanish Rice and chicken mixture in the center of the lettuce.

Portion ½ ounce of shredded mozzarella cheese in a 1-ounce portion cup. Place in one corner of the container or place 1 ounce on tray.

Top salad with 1 ounce of diced tomatoes using a No. 16 scoop.

Place 2 ounces of tortilla chips on one side of the salad container.

Mix together the picante sauce and prepared ranch dressing, and portion 1 ounce of sauce into a portion cup. Place portion cup of sauce in a corner of the salad container. Alternately, use a 1-ounce package of prepared ranch dressing. *Critical Control Point: Hold for service at 41°F or below.
Nutrition Facts
Serving

1 entrée salad

Calories

819

Total Fat

28g

Saturated Fat

5g

Cholesterol

0mg

Sodium

623mg

Carbohydrates

80g

Dietary Fiber

7g

Protein

74g