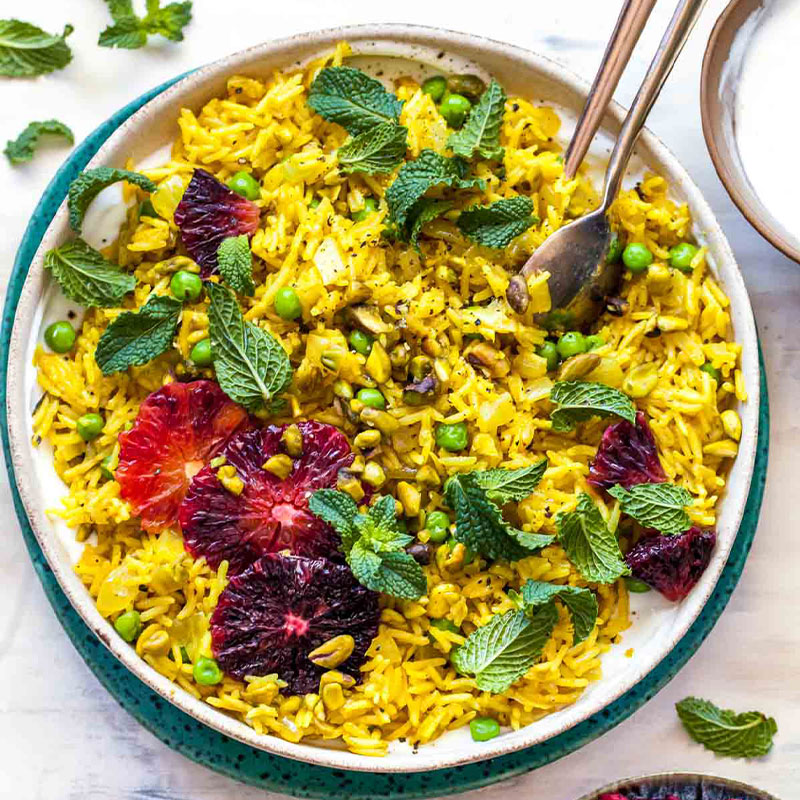 Curried Rice Salad
This easy vegetarian and gluten-free recipe stars U.S.-grown basmati rice and comes together in just 30 minutes! This one-pot recipe comes to us from our friend @DishingOutHealth in partnership with USA Rice.
Servings

4

Prep Time

10 min

Cook Time

25 min

Total Time

35 min
Ingredients
1 cup basmati rice

2 tablespoons extra-virgin olive oil

2 tablespoons unsalted butter

1 yellow onion, finely chopped

3 garlic cloves, minced

1½ tablespoons curry powder

1 teaspoon kosher salt

½ teaspoon black pepper

¾ cup frozen peas

1 tablespoon orange zest

2 tablespoons orange juice

½ cup plain whole-milk yogurt

¼ cup pistachios, chopped or almonds, sliced

⅓ cup fresh mint leaves
Directions
Heat oil and butter in a large skillet with a fitted lid over medium heat. Once hot, add the onion and cook 6 to 7 minutes, until soft.

Stir in garlic, curry powder, salt, and pepper; cook 1 to 2 minutes, stirring often, until fragrant. Add rice and stir to coat. Press into a single layer and cook 2 minutes, stirring only occasionally, until golden and toasted.

Stir in 2 cups of water, cover, and reduce heat to medium-low. Cook 15 to 17 minutes, until rice is tender and soaks up liquid. Stir in peas, remove from heat, cover, and let steam for 5 minutes. Stir in orange zest and juice.

Spread yogurt on a serving platter and spoon rice mixture overtop. Garnish with chopped nuts, fresh mint, and orange wedges, if desired.
Recipe Notes
Serve: Enjoy as an entree or side dish to complement baked fish, roasted chicken, or seared shrimp. Salad can be enjoyed warm, chilled, or at room temperature.

To Store: Transfer to an airtight Tupperware container and refrigerate up to 4 days.

Substitutions: To make vegan, use a plant-based butter alternative and coconut yogurt.
Nutrition Facts
Calories

365

Total Fat

15g

Saturated Fat

5g

Sodium

675mg

Carbohydrates

51g

Dietary Fiber

3g

Sugar

7.5g

Protein

9g