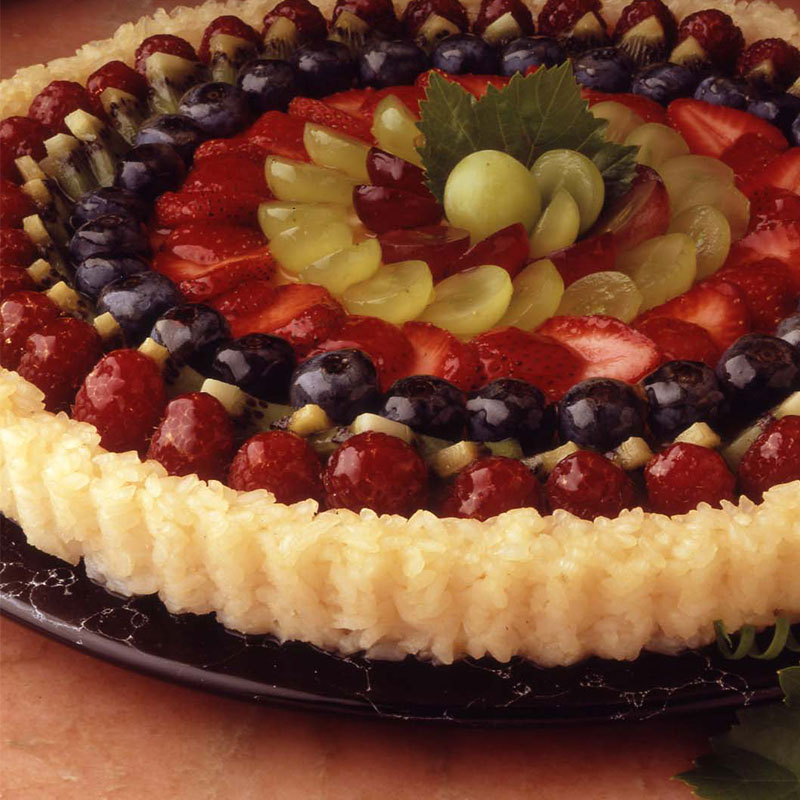 Ingredients
3 cups cooked rice

¼ cup sugar

1 egg, beaten

1 (8-ounce) package light cream cheese, softened

¼ cup plain nonfat yogurt

¼ cup confectioners' sugar

1 teaspoon vanilla extract

⅓ cup low-sugar apricot or peach spread

2 to 3 cups fresh fruit (sliced strawberries, raspberries, blueberries, sliced kiwi fruit grape halves)
Directions
Combine rice, sugar and egg in medium bowl. Press into 12-inch pizza pan or 10-inch pie pan. Bake at 350 degrees 10 minutes. Cool.

Beat cream cheese and yogurt in medium bowl until light and fluffy. Add confectioners' sugar and vanilla; beat until well blended. Spread over crust.

Heat apricot spread and water in small saucepan over low heat. Strain; cool. Brush half of glaze over filling. Arrange fruit attractively over crust, starting at outer edge. Brush remaining glaze evenly over fruit. Cover and chill 1 to 2 hours before serving.
Nutrition Facts
Calories

257

Total Fat

8g

Cholesterol

48mg

Sodium

432mg

Carbohydrates

41g

Dietary Fiber

1g

Protein

6g