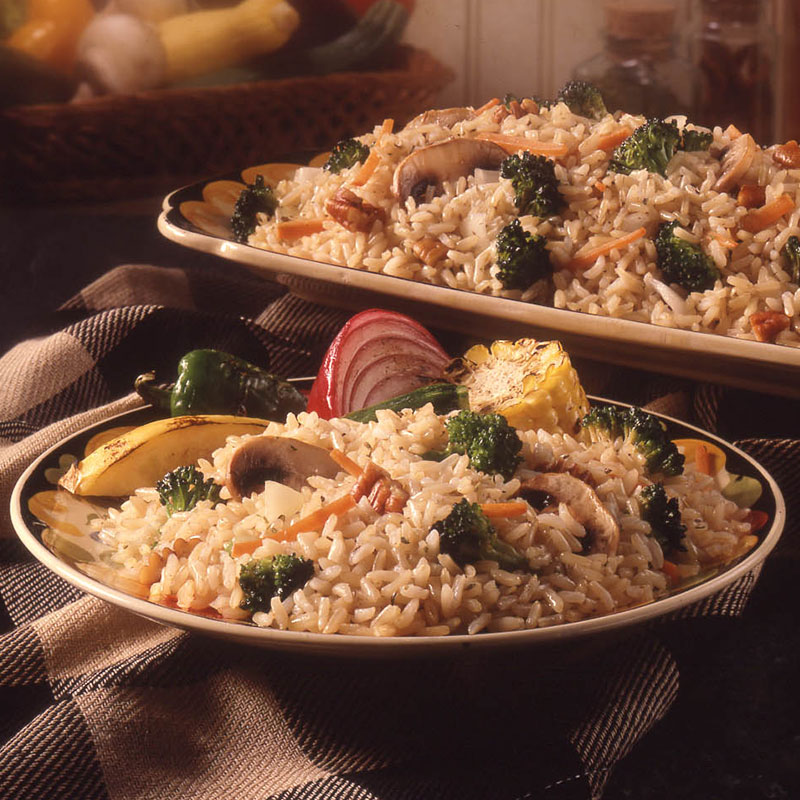 Ingredients
1 tablespoon vegetable oil

2 cups broccoli, coarsely chopped

2 medium carrots, julienned

1 medium onion, chopped

1 cup fresh mushrooms, sliced

2 cloves garlic, minced

½ teaspoon dried thyme leaves

½ teaspoon dried basil leaves

½ teaspoon salt

¼ teaspoon ground black pepper

3 cups cooked brown rice (cooked in low-sodium vegetable broth)

½ cup chopped pecans, toasted

½ cup Parmesan cheese, shredded (optional)
Directions
Heat oil in large skillet over medium-high heat until hot. Add broccoli, carrots and onion. Cook and stir 5 to 7 minutes or until broccoli and carrots are tender and onion is beginning to brown.

Add mushrooms, garlic, thyme, basil, salt and pepper. Cook and stir 2 to 3 minutes or until mushrooms are tender. Add rice and pecans; cook 1 to 2 minutes, stirring, until well blended and thoroughly heated.

Just before serving sprinkle with cheese, if desired.
Recipe Notes
To toast pecans, place on baking sheet; bake 5 to 7 minutes in 350 degree oven, or until nuts are just beginning to darken and are fragrant.
Nutrition Facts
Calories

243

Total Fat

10g

Sodium

215mg

Carbohydrates

34g

Dietary Fiber

3g

Protein

5g