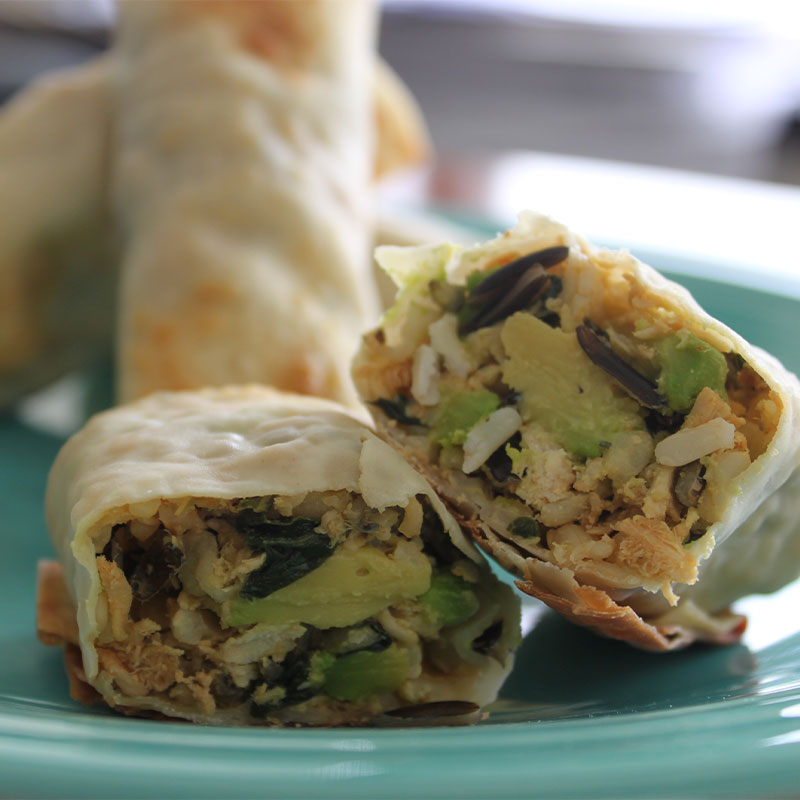 Sesame Chicken and Wild Rice Spring Rolls
Servings

16

Serving Size

1 spring roll
Ingredients
2 tablespoons sesame oil

2 tablespoons soy sauce

2 tablespoons hot sauce (Sriracha recommended)

1 pound cooked boneless, skinless chicken breasts, shredded

1 pound baby bok choy, chopped

1 cup cooked wild rice

2 cups cooked brown rice

2 avocados, chopped

16 spring roll wrappers

¼ cup olive oil
Directions
Preheat oven to 475 degrees. In a large bowl, whisk together the sesame oil, soy sauce and hot sauce. Add the chicken and toss to coat. Pour out into a large skillet and cook on medium high heat, stirring often, for 5 minutes or until chicken is opaque. Remove from heat, add the bok choy and stir until bok choy has wilted. Add the rice and avocado, then stir again.

Working in batches, set 4 of the spring roll wrappers onto a flat surface. Add equal amounts of the chicken and rice mixture (about 3 or 4 tablespoons) to the bottom center of each wrapper. Fold the end of the wrapper closest to you over the mixture, tucking in the left and right sides until fully wrapped. Place seam-side-down on a large baking sheet. Continue to do this for the remaining ingredients.

Brush rolls with olive oil and bake for 5-10 minutes or until golden brown.

Nutrition Facts
Calories

190

Total Fat

19g

Cholesterol

15mg

Sodium

300mg

Carbohydrates

18g

Dietary Fiber

2g

Protein

8g