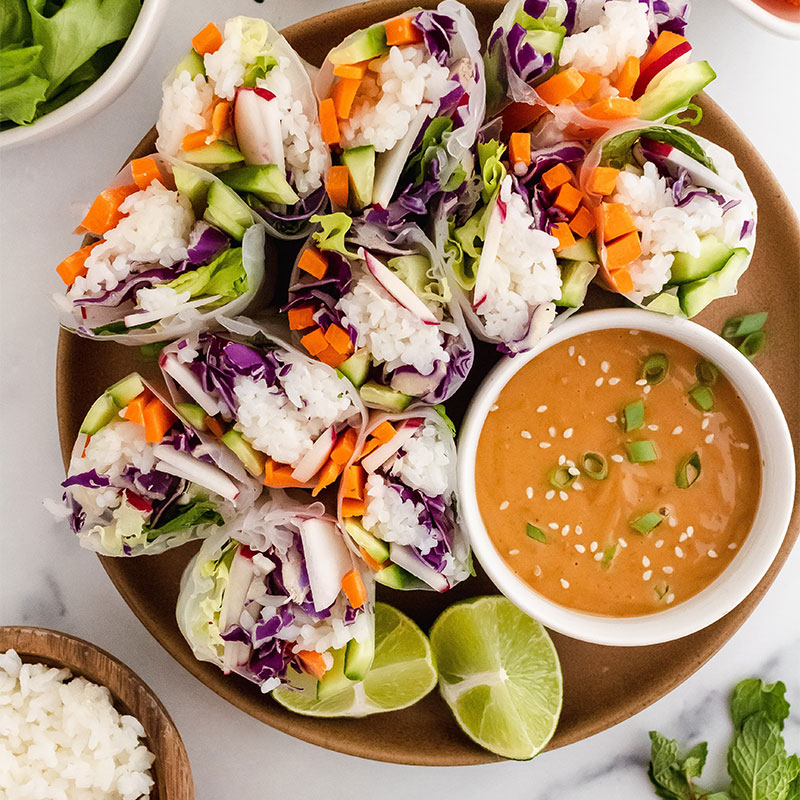 Veggie & Rice Spring Rolls
Looking for a fresh and delightful meal that's bursting with flavor and nutrients? Well, look no further than our Veggie & Rice Spring Rolls! They are gluten-free, beautifully colored, and are as fun to make as they are to dip in the tasty Thai peanut dipping sauce.

This warm weather recipe stars U.S.-grown medium grain white rice and comes to us from our friend Maggie of @onceuponapumpkin in partnership with USA Rice.
Servings

2-3

Prep Time

10 min

Cook Time

5 min

Total Time

15 min
Ingredients
Spring Rolls

1½ cup cooked medium-grain white rice

1 cup butter lettuce

½ cup shredded purple cabbage

2 medium carrots, peeled and sliced into strips

2 Persian (mini) cucumbers or 1 small cucumber, thinly sliced

½ cup radish, thinly sliced and halved

2 tablespoons fresh mint leaves
8 sheets rice paper (spring roll wrappers)
Peanut Sauce

⅓ cup creamy unsweetened peanut butter

2 tablespoons rice vinegar

2 tablespoons reduced-sodium tamari or coconut aminos

½ of a lime, juiced

1 tablespoon toasted sesame oil

2 cloves garlic, minced

2-3 tablespoons water, as needed

2 teaspoons white sesame seeds

2 teaspoons green onion, chopped
Directions
Cook rice according to package directions in a rice cooker or on the stovetop.

Prepare all of the veggies by washing and cutting them.
Soak spring roll wrappers in warm water until pliable. I recommend doing one at a time.

Place spring roll wrapper on a cutting board and start by filling with 2 tbsp of rice in the middle. Alternate stacking cucumber, carrots, lettuce, cabbage and radish on top (just a thin layer as to not overfill), finally topping with mint.

Start wrapping up the spring roll by folding up the sides first, then the bottom, then roll over the top of the wrapper until fully wrapped up. Repeat with remaining ingredients.

Cut spring rolls in half, and place on a plate cut side up.

Mix together all of the ingredients for the peanut sauce except for the sesame seeds and green onion. Once a creamy consistency has been reached topped with sesame seeds and green onion. Use peanut sauce for dipping rice spring rolls in and enjoy!

Recipe Notes
Prep all of the ingredients ahead of time. You want everything ready when you're ready to make the rolls!

Place the rice on the bottom and top with veggies. I like this order because there's less of a likelihood of one of the veggies poking through the wrapper and making a hole.

Don't overfill the wrappers. Less ingredients is actually better to make sure the spring rolls stay intact and don't rip.