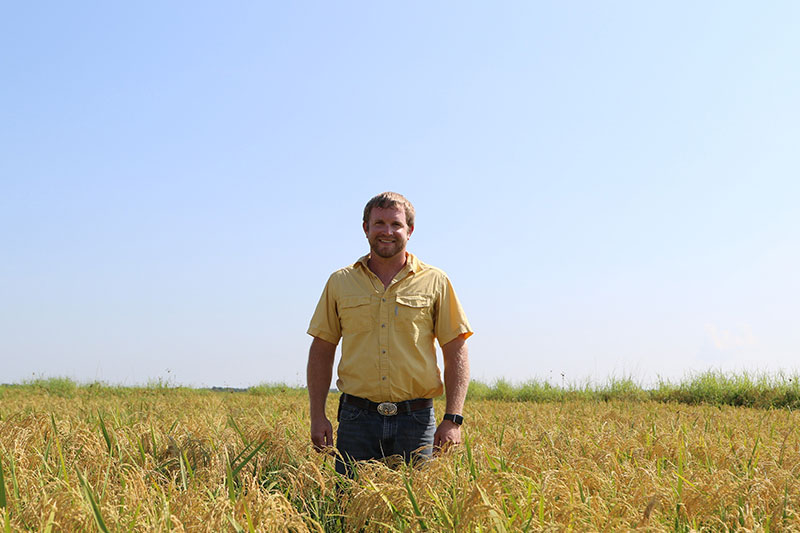 Scott Savage
Bay City, Texas
Multi-Generational Farmer
Favorite Rice Dish is Cinnamon Rice Pudding
Matagorda County, on the upper Texas coast, is at the heart of the state's rice production and milling industry. The area experienced a four-year drought from 2012 to 2015 and farmers there were unable to grow rice. Then, after a couple years of normal production, Hurricane Harvey hit in 2017 and severely impacted the Texas rice industry.
Scott Savage, a fifth generation rice farmer who works with his grandfather, father, and uncle on Triangle Farms in Matagorda, says, "Weather is either a farmer's biggest friend or foe, and something we all must accept for the good or bad. Mother Nature can make or break a farmer. It's another obstacle we must overcome to survive and continue."
Perseverance pays off, and when the weather cooperates American rice farmers can produce around 9 million tons of rice a year, half of which is exported to more than 120 countries. Each year, U.S. farmers like Scott participate in promotional activities around the world to raise awareness and generate overseas markets for their rice. "Experiencing how U.S.-grown rice helps feed people in other countries is very rewarding. I am proud to be part of an industry that helps feed the world."
Most of the rice grown in Texas is long grain. Long grain rice has a long, slender kernel three to four times longer than its width, and when cooked it is lighter, fluffier, and more separated than medium or short grain rice. Long grain is often used in recipes - like Scott's favorite rice pudding - that require rice grains with a distinct shape and texture.
Related Recipes