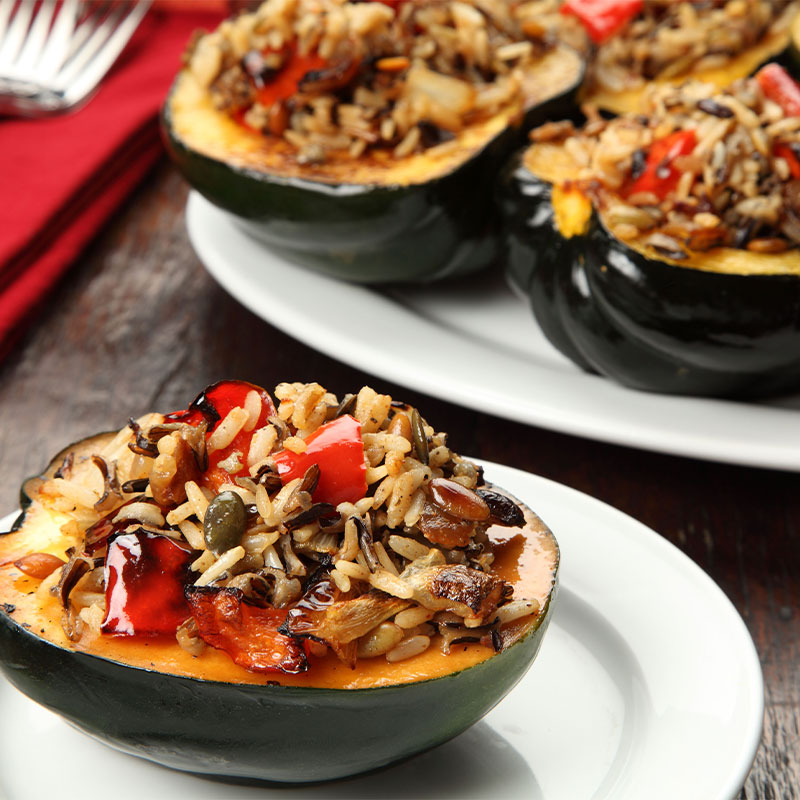 Brown and Wild Rice Stuffed Squash
Servings

6

Serving Size

1 squash half
Ingredients
3 (1 pound each) medium acorn squash halved lengthwise, seeds and membrane removed

2 tablespoons canola oil, divided use

¾ teaspoon salt, divided

¼ teaspoon black pepper

3 tablespoons pure maple syrup, divided use

1½ cups onion, coarsely chopped

1½ cups red or green bell pepper, coarsely chopped

¼ cup hulled pumpkin seeds or chopped walnuts

2 cups hot cooked brown rice

1 cup hot cooked wild rice

1 teaspoon ground cumin

¼ teaspoon ground nutmeg

⅛ teaspoon dried pepper flakes, optional
Directions
Preheat oven to 400 degrees.


Lightly brush the squash halves with 1 tablespoon of the oil. Place squash, cut side down on a large foil-lined baking sheet. Bake 15 minutes. Remove from oven. Turn squash over, season with 1/4 teaspoon of salt and black pepper. Spoon 1/2 teaspoon syrup in each squash cavity.


Stir together the onions, bell pepper and remaining oil in large bowl. Arrange onion mixture in a single layer on baking sheet surrounding the squash. Bake 20 minutes or until onions begin to lightly brown on edges. Add nuts to the baking sheet, continue baking for 5 minutes, or until squash is tender when pierced with a fork.


Place the squash on a serving platter. If time allows, stir the onion mixture on the foil and fold up edges of the foil to seal. Let stand 10 minutes to allow vegetables to absorb flavors and release some of their natural juices.


Combine the onion mixture with the brown rice, white rice, cumin, nutmeg, remaining 1/2 teaspoon salt and pepper flakes in the same large bowl used to toss the onion mixture. Mound equal amounts in each squash half. Drizzle 1 teaspoon syrup around the outer edges of each squash.

Recipe Notes
Makes 6 squash halves and 4 cups filling total Serves 6; 1 squash half and 2/3 cup filling per serving.
Nutrition Facts
Calories

320

Total Fat

8g

Sodium

330mg

Carbohydrates

59g

Dietary Fiber

6g

Protein

7g