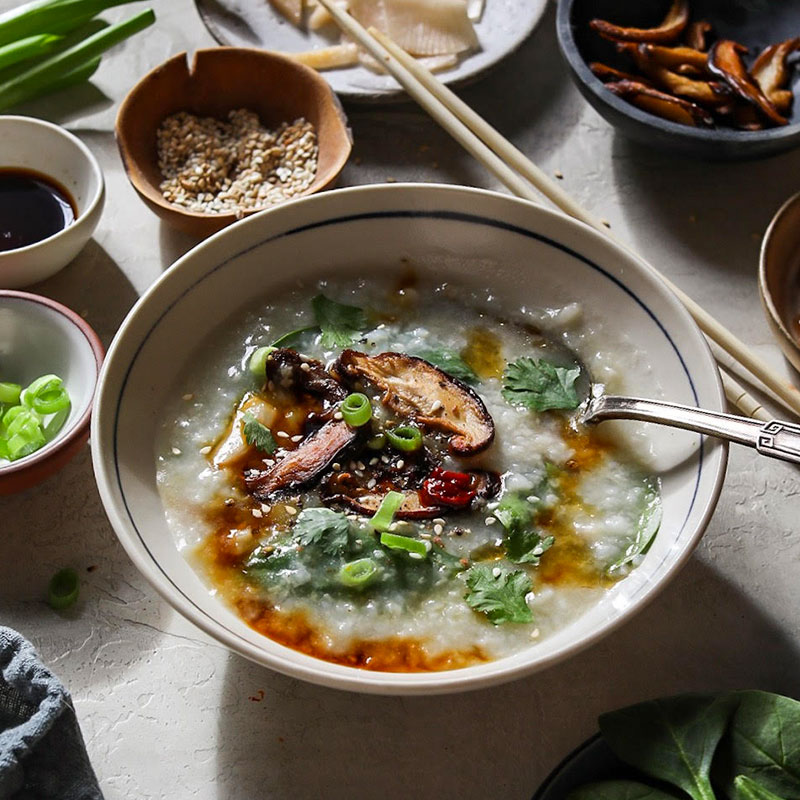 Congee with Spinach & Shiitake
Enjoy this traditional Chinese rice porridge made with U.S.-grown long grain rice. Recipe created by Jill Fergus @FEEDTHESWIMMERS in partnership with Think Rice & The FeedFeed.
Servings

4-6

Prep Time

10 min

Cook Time

1 hr 30 min

Total Time

1 hr 40 min
Ingredients
1 cup U.S. long grain white rice
8 cups vegetable stock
½ ounce knob of ginger, peeled & sliced
clove of garlic, sliced
1 teaspoon sea salt
For Garnish/Mix Ins
2 large handfuls baby spinach
2 large shiitake mushrooms, sliced
1-2 scallions, sliced
sesame oil
soy sauce of gf tamari
sesame seeds
cilantro and/or parsley
chili sauce (with garlic)
flaky sea salt
fresh ground pepper

Directions
In a 4 qt (or similar) heavy bottomed pot, add rice, ginger, salt and stock and bring to a boil. Reduce heat to a simmer, stir well and cover. Cook for about 90 minutes, stirring occasionally to prevent any rice from sticking to the bottom and burning. Finished product should be nice and creamy. If thicker than you like, adjust with additional heated broth or boiled water (you want to maintain temperature).

Remove ginger if thick sliced, you may allow it to stay of you love it. Stir In spinach and adjust salt and pepper to taste. Drizzle soy sauce and sesame oil and garnish as you like!