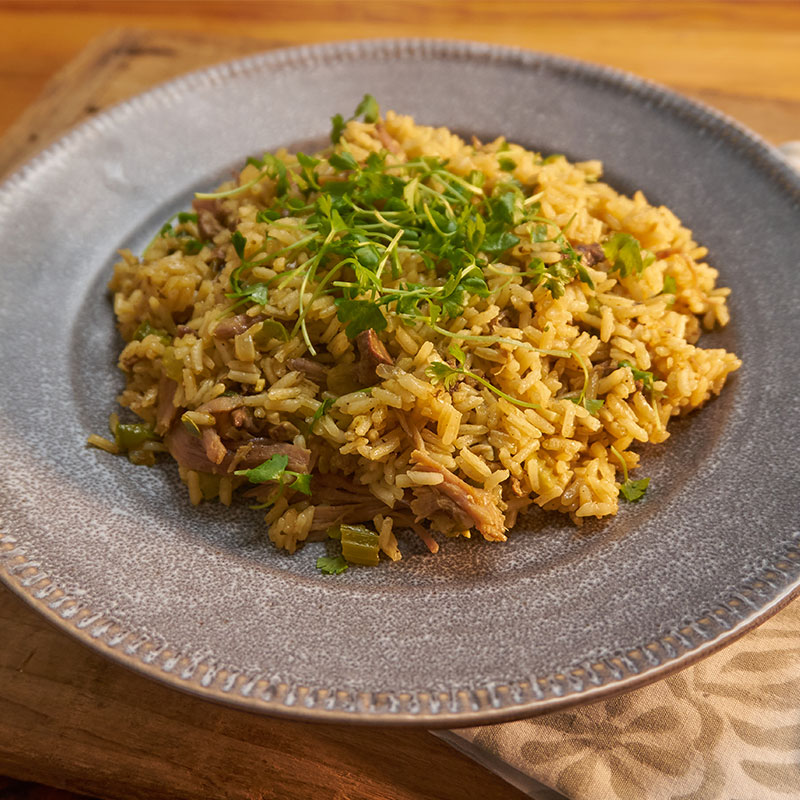 Ingredients
4 ½ tablespoons duck fat

¾ cup yellow onion, 1/4" diced

¾ cup green bell pepper, 1/4" diced

¾ cup celery, 1/4" diced

3 cloves garlic, minced

2 jalapeños, minced

3 cups long grain rice

3 tablespoons Cajun seasoning

1 ½ teaspoons ground turmeric

2 bay leaves

1 ½ teaspoons dried oregano

1 ½ pounds duck confit

¾ cup duck livers

5 ¼ cups chicken stock

¾ cup green onion, sliced
Directions
Heat duck fat in medium saucepan over medium heat. Sweat vegetables stirring often until tender about 4 minutes.

Add the rice and the spices and toast rice for 2 minutes.

Add duck meat and stock and simmer covered for 15-18 minutes until all of the water is absorbed and the rice is tender but nit over cooked.

Let the dish rest for 5 minutes covered and fluff with a fork. Garnish with sliced green onion.