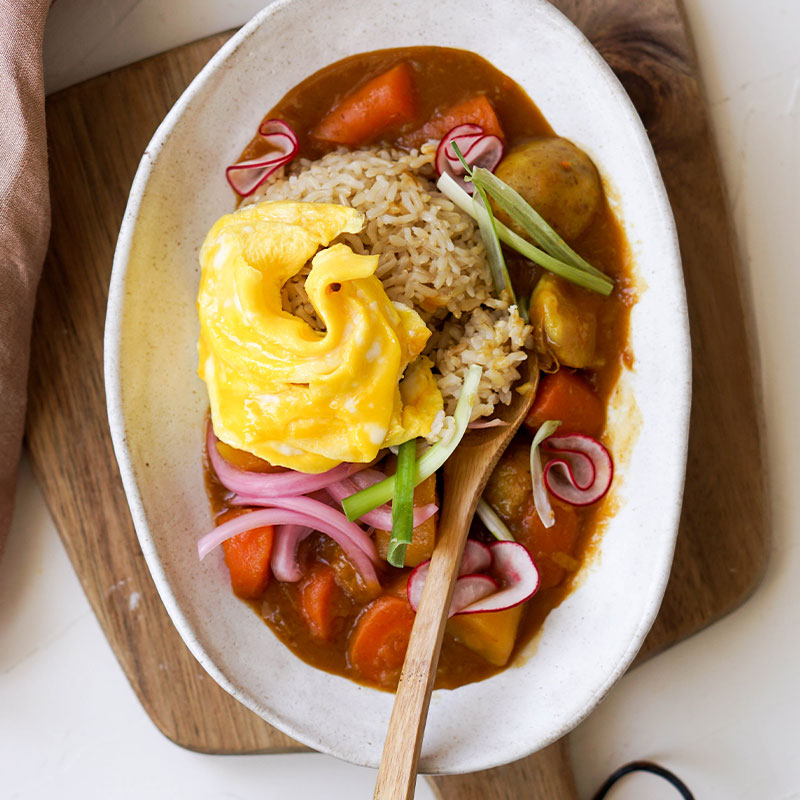 Japanese Brown Rice Curry
What pairs better than curry and U.S.-grown rice? Fluffy steamed rice is the perfect canvas to soak up that sweet and earthy sauce and this Japanese curry is so easy to make too. You probably have all the ingredients already in your kitchen! This recipe comes to use from our friend @EatChoFood in partnership with TheFeedfeed and USA Rice.
Servings

4

Total Time

1 hr 30 min
Ingredients
2 cups brown rice

4 cups water

3 tablespoon olive oil, divided

½ red onion, thinly sliced

12 ounces carrots, cut into 1

12 ounces small yukon gold potatoes, cut in half

1½ teaspoons kosher salt

1 teaspoon curry powder

2 tablespoons all-purpose flour

4 cups vegetable stock (can be swapped for beef/chicken)

4 tablespoons ketchup

1 tablespoon sriracha

1 teaspoon dark soy

4 eggs
Directions
Combine rice and water in a medium saucepan and bring to a boil. Reduce heat to a simmer and cover with a lid. Cook rice for 45 minutes, until cooked through and water has evaporated. Alternatively, cook rice in a rice cooker.

Heat 2 tablespoons of olive oil in a large saucepan or heavy bottom pot. Add onions and stir. Cook the onions for 5 minutes, until fragrant and edges are starting to brown. Add cut carrots and potatoes. Toss to mix everything together and continue to cook for 5 more minutes.

Add salt, curry powder, and all purpose flour to the vegetables. Toss to evenly coat the vegetables in the curry and flour. Add water, ketchup, sriracha, and dark soy to the vegetables. Give everything a good stir and bring to a simmer. Continue to simmer for 35-40 minutes, until the vegetables are tender and the curry has thickened.

Once the rice is cooked, fluff the rice with a fork and serve in bowls with a side of curry. Top with pickled vegetables and eggs.