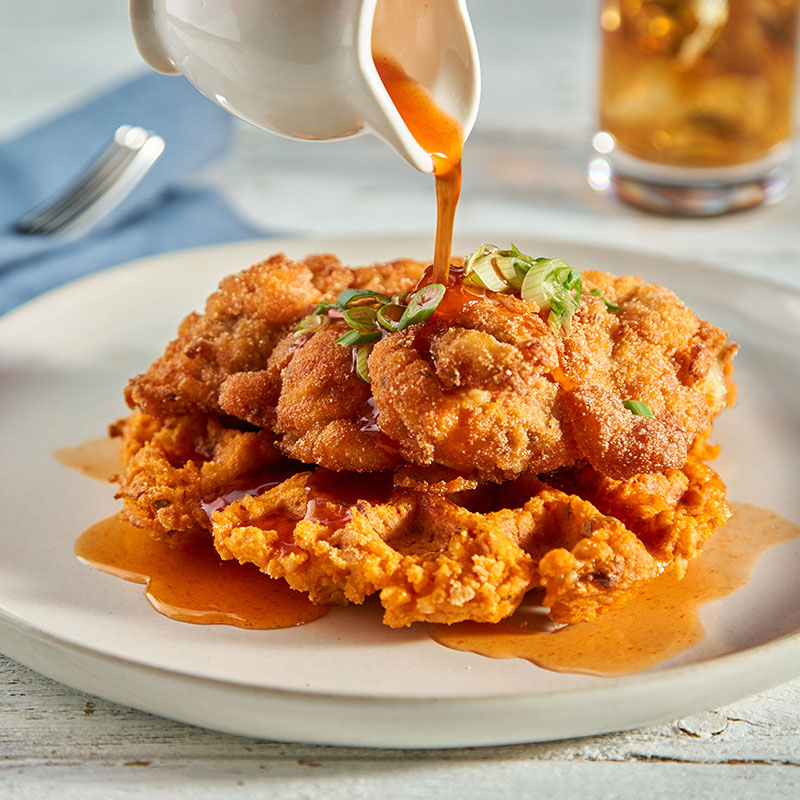 Korean Fried Chicken and Rice Waffles
Ingredients
2 tablespoons sesame oil

2 tablespoons vegetable oil

¼ cup scallion, minced

2 tablespoons ginger, minced

2 tablespoons garlic, minced

½ cup Kim Chi, chopped

2 tablespoons gochujaru

1 quart Arborio rice, cooked (use 10% extra water to cook rice)

2 eggs, whole

¼ cup rice flour

4 each Korean fried chicken thighs (subrecipe)

½ cup Gochujaru maple syrup (subrecipe)

Korean Fried Chicken Thighs:

1 tablespoon ginger, minced

2 tablespoons scallion, minced

1 teaspoon garlic, minced

¼ cup rice cooking wine

½ cup gochujang

4 chicken thighs, boneless, skin-on

as needed rice flour

Gochujaru Maple Syrup:

3 tablespoons Gochujaru

1 cup maple syrup

2 tablespoons rice wine vinegar
Directions
In a wok or large sauté pan over high heat, heat sesame and vegetable until they begin to smoke.

Add scallion, ginger, and garlic. Sauté until they become fragrant.

Add kimchi and gochujaru, continue to sauté until all liquid has evaporated.

Add cooked rice and toss to combine.

Remove rice mixture from heat and allow to cool for 10-15 minutes before mixing in the egg and flour.

Spread 1 cup of rice mixture evenly in a pre-heated and oiled cast iron waffle maker. Cook the rice waffle for 10-12 minutes or until waffle is crispy and can be easily removed with a metal spatula.

Top each waffle with a fried chicken thigh and a drizzle of gochujaru maple syrup.

Korean Fried Chicken Thighs (subrecipe)

Whisk together ginger, scallion, garlic, rice cooking wine, and gochujang until evenly combined.

Toss marinate with chicken thighs and let set over night in the refrigerator.

Remove chicken from marinate and dredge heavily in rice flour.

Fry Chicken at 350° until it becomes golden brown and crispy. Check temperature and finish in the oven if needed.

Gochujaru Maple Syrup (subrecipe)

Whisk gochujaru, syrup, and vinegar together until evenly combined.