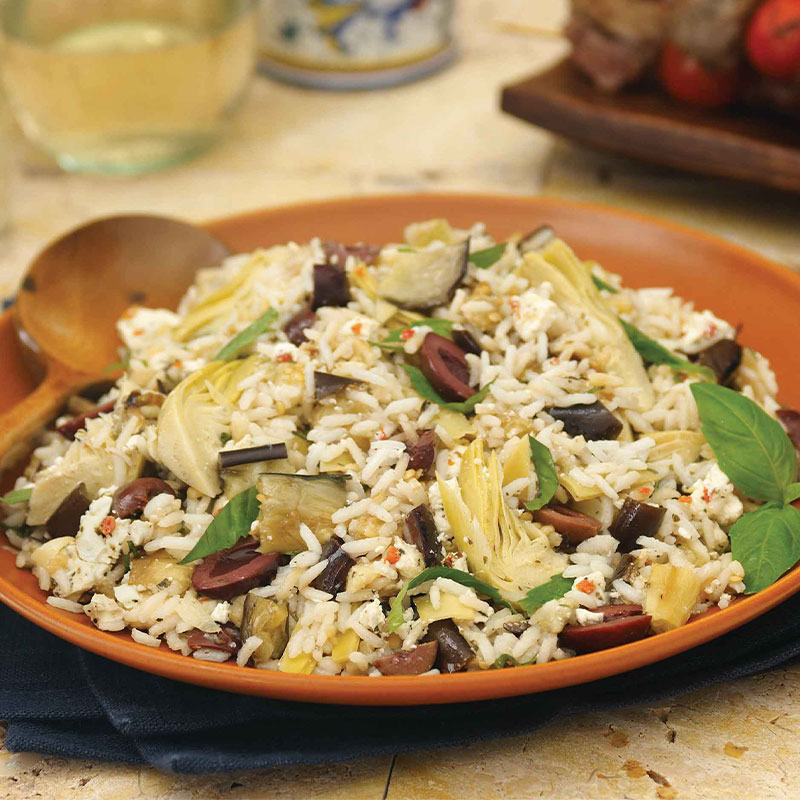 Mediterranean Eggplant, Artichoke and Feta Rice Salad
"Rev Up Your Rice!" Recipe Contest Finalist- Sharyn Hill
Ingredients
1 medium eggplant, cut lengthwise into ½' inch slices

2 tablespoons vegetable oil

3 cups cooked long grain white rice, cooled

1 (6-ounce) jar marinated artichoke hearts, drained and coarsely chopped, liquid
reserved

½ cup pitted kalamata olives, chopped

¼ cup fresh basil leaves, sliced

1 (4-ounce) package crumbled feta cheese with basil and tomato

salt and pepper, to taste
Directions
Preheat broiler. Brush eggplant slices with oil. Broil 4 inches from heat source 12 to 15 minutes, turning once, until tender and lightly browned; cool.

Cut eggplant into 1-inch pieces and place in large bowl. Add rice, artichoke hearts, olives and basil. Combine reserved liquid from artichoke hearts and feta cheese.

Drizzle over salad and gently toss to coat. Season with salt and pepper to taste.
Nutrition Facts
Calories

270

Total Fat

14g

Cholesterol

10mg

Sodium

500mg

Carbohydrates

31g

Dietary Fiber

5g

Protein

7g