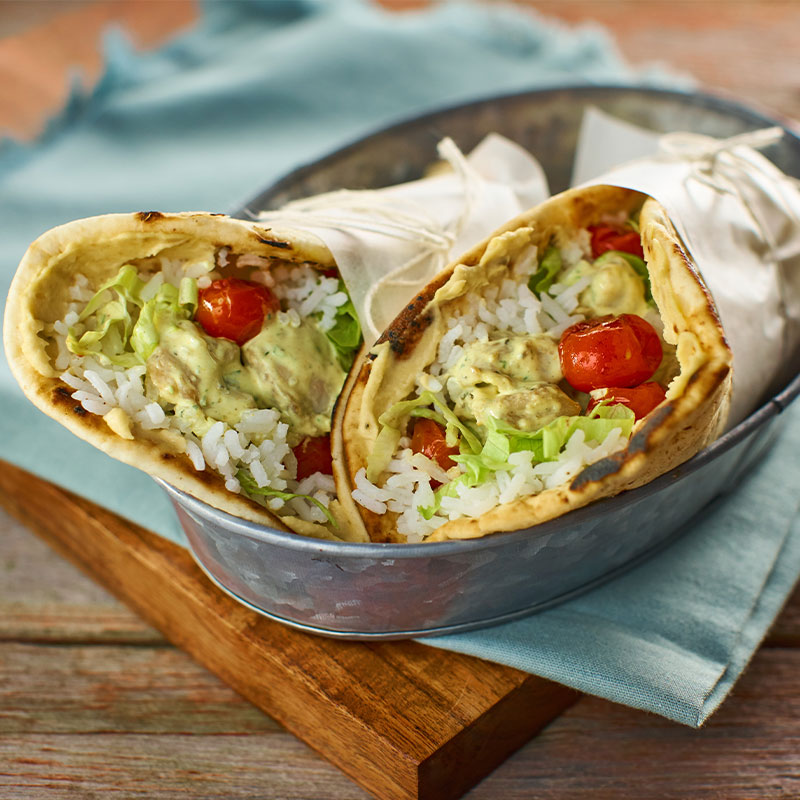 Mediterranean Pita Sandwich
Ingredients
4 pita bread, toasted

3 cups lettuce, shredded

2 cups cherry tomatoes, blistered

4 cups jasmine rice, cooked

8 tablespoons hummus

greek chicken
yogurt sauce
Greek chicken

2 chicken thighs, cut in 1

3 tablespoons olive oil

1 tablespoon lemon juice

½ teaspoon coriander, ground

1 tablespoon oregano, chopped

1 tablespoon salt
3 garlic clove, minced
Yogurt sauce

½ cup mayonnaise

½ cup greek yogurt, plain

1 tablespoon sugar, granulated

2 tablespoons white vinegar

1 teaspoon lemon juice

¼ cup italian parsley, chopped

½ teaspoon turmeric

to taste black pepper

to taste salt
Directions
Mediterranean Pita Sandwich:

Cook rice according to package directions. Cool.

Prepare yogurt sauce and set aside.
Prepare chicken then combine with yogurt sauce and hold for later use
Greek Chicken:

Heat 1 tablespoon of cooking oil and sear chicken in batches until golden on all sides.

Meanwhile combine olive oil with spices, lemon juice and garlic.

Toss seared chicken with the aromatic oil and bake at 350F until cooked through (min 165*F).
Reserve warm for later use.
Yogurt Sauce:

Combine all ingredients in mixing bowl, reserve for later use.
Recipe Notes
Build pita sandwiches in the following order:
-Pita
-Hummus
-Cooked rice
-Chicken in yogurt sauce
-Shredded lettuce
-Blistered tomatoes