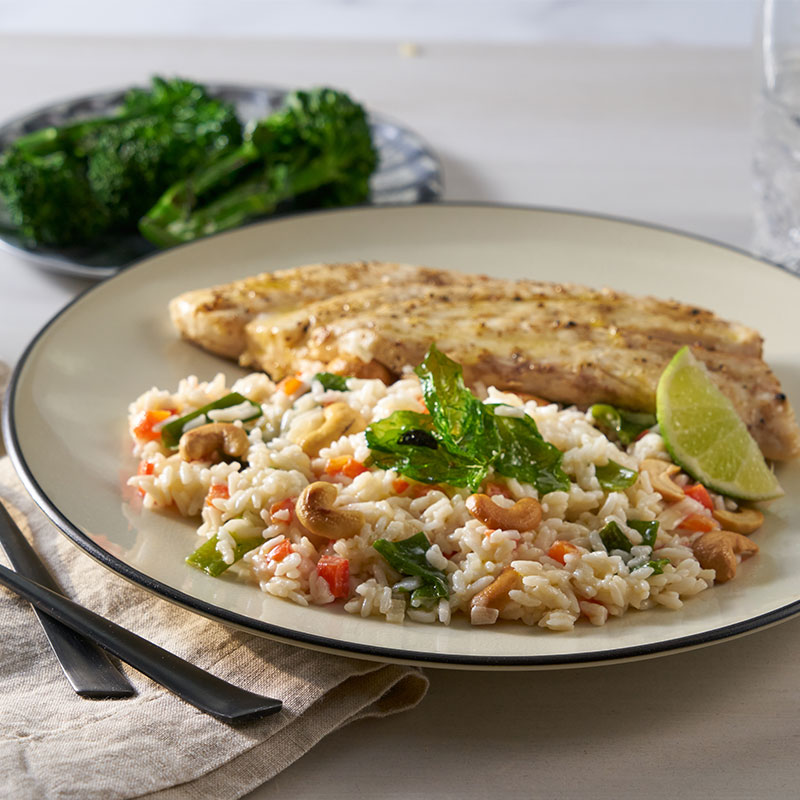 Miso Snapper Coconut Rice Pilaf
Ingredients
Miso Snapper Coconut Rice Pilaf:

6 cups Thai coconut pilaf (sub-recipe)

18 ounces Chinese broccoli or broccolini, blanched sautéed

6 snapper filets, skin on, pan seared

6 tablespoons miso butter (sub-recipe)

6 scallions, grilled

3 teaspoons Thai chilis, thinly sliced

Thai Coconut Pilaf:

¼ cup canola oil

6 tablespoons shallot

1 ½ cups red bell peppers, ¼-inch diced

1 ½ cups U.S. Jasmine rice, rinsed

1 ½ cups scallions, green part, 1" lengths

3 cups coconut milk, unsweetened

½ cup water

3 kafir lime leaf, dried

1 cup cashews, toasted

1 cup basil, fresh, fried crispy

Miso Butter:

3 tablespoons white miso

8 ounces butter, unsalted, softened
Directions
Thai Coconut Pilaf:

Pour canola oil into a medium sauce pot over medium-high heat.

Add shallot and bell pepper to the pot and sauté until shallot becomes translucent.

Pour in jasmine rice and cook for 30 seconds.

Add in scallions, coconut milk, water, and kaffir lime leaf. Bring to a low simmer and reduce heat to low. Simmer rice covered for 15-20 minutes or until rice is tender.

Fold in toasted cashews and serve garnished with crispy basil.

Miso Butter:

Place both ingredients in a food processor and blitz until fully combined. Store covered in the refrigerator until ready to use.

Miso Snapper Coconut Rice Pilaf:

Prepare each plate in the following quantities:
- 1 cup Thai coconut pilaf
- 3 ounces Chinese broccoli
- 1 each snapper fillet
- 1 tablespoon miso butter
- 1 grilled scallion
- ½ teaspoon Thai chilis