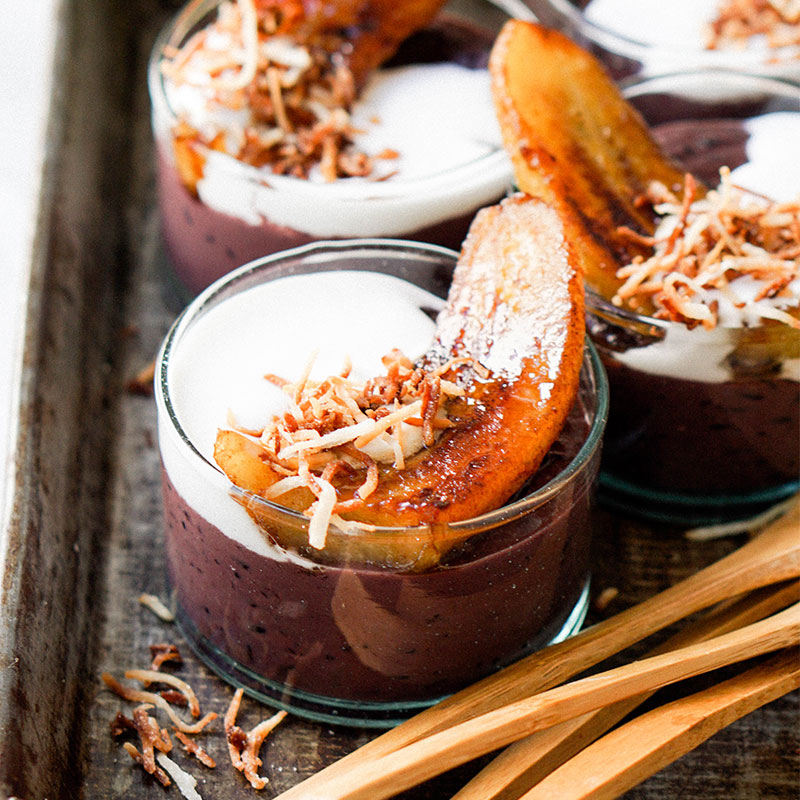 Purple Rice Coconut Pudding
This antioxidant heavy Purple Rice Coconut Pudding comes to us from our friend Kristina of @EatChoFood in partnership with USA Rice and TheFeedfeed.
Servings

4

Prep Time

10 min

Cook Time

50 min

Total Time

1 hr
Ingredients
1 (14 ounce) can full-fat coconut milk

1 cup water

½ cup U.S.-grown purple rice

½ teaspoon salt

1 egg

⅓ cup white sugar

coconut cream, optional

toasted, shredded coconut, optional

Caramelized Bananas:

1 banana

2 tablespoons butter

2 tablespoons brown sugar
Directions
In a medium pot bring coconut milk, water, purple rice, and salt to a boil. Reduce heat to a simmer and continue to cook for 40-45 minutes, stir every 5 minutes to prevent rice from burning to the bottom.

Mix together egg and white sugar in a small bowl. Temper the egg mixture by slowing whisking in ½ cup of hot coconut milk mixture. Add the egg mixture into the rice and whisk for another 5-8 minutes until thick and creamy. Allow to cool until serving.

Melt butter and brown sugar in a skillet. Cut the banana in half lengthwise and then cut in half again to get 4 segments. Place the bananas in the skillet cut side down and cook for 5 minutes until caramelized.

Fill 4 containers or serving bowls with the purple rice pudding and top with a segment of caramelized banana. Garnish with coconut cream and toasted shredded coconut. Serve warm or chilled.