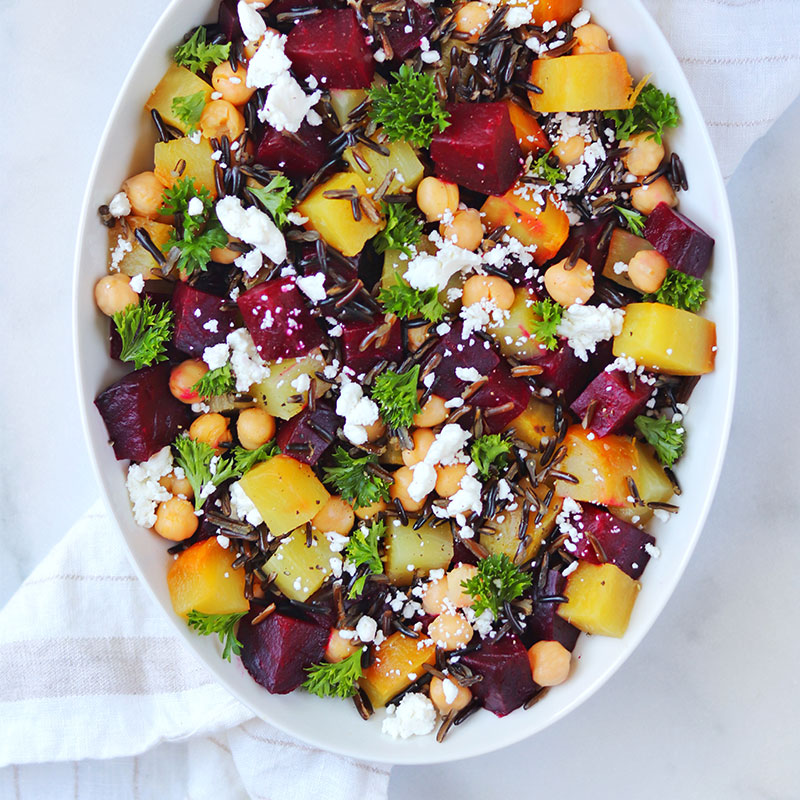 Roasted Beet and Goat Cheese Wild Rice Salad
This delicious salad features California-grown Wild Rice and comes to us from our friend Alex Aldeborgh of @DaisyBeet in partnership with USA Rice and TheFeedfeed.
Ingredients
2 ½ pounds red and golden beets

1 cup U.S.-grown wild rice

1 can low sodium chickpeas, drained and rinsed

½ cup parsley, chopped

⅓ cup goat cheese crumbles

salt

pepper

Dressing

2 tablespoons lemon juice

2 tablespoons apple cider vinegar

1 tablespoon honey

1 tablespoon dijon mustard

1 tablespoon parsley, chopped

1 clove garlic, minced

3 tablespoons olive oil
Directions
Preheat oven to 450 degrees F. Spray a covered baking dish with olive oil cooking spray.

Wash and scrub beets and add them to the prepared baking dish. Sprinkle with a little salt and cover (Alternatively, you can wrap each beet in tin foil and place on a baking sheet, if you don't have a covered baking dish).

Roast beets for 45 minutes – 1.5 hours, rotating them every 20 minutes so they cook evenly. Beets will be done cooking when fork tender.

Once beets are cool enough to handle, use your hands to squeeze off the skin under cool running water. Chop into 1 inch cubes.

While the beets roast, cook the wild rice according to package instructions. I used a rice cooker on the brown rice setting, and it took about an hour.

Prepare the dressing. Whisk together lemon juice, apple cider vinegar, honey, mustard, parsley, and garlic. Slowly drizzle in olive oil while continuing to whisk until well combined.

Combine roasted beets, wild rice, chickpeas, parsley, and goat cheese in a large mixing bowl. Pour in dressing and toss until everything is well coated. Add salt and pepper to taste.
Recipe Notes
Try to choose similar sized beets for even cooking. The smaller they are, the faster they will cook.

This salad tastes good cold and holds up well as leftovers.

Store in the fridge for up to 5 days in an airtight container.