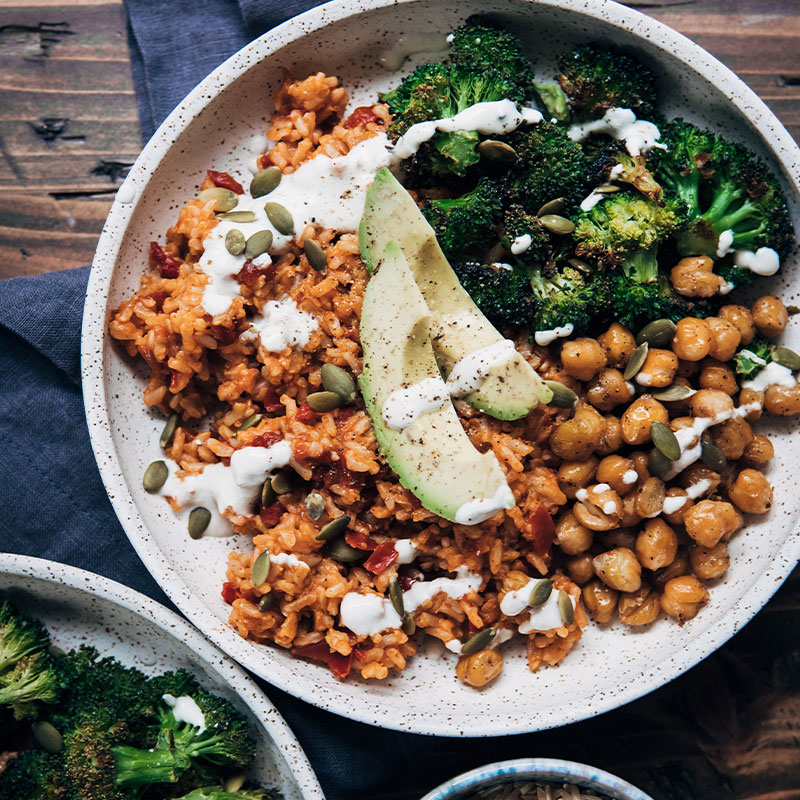 Spicy Vegan Brown Rice Bowl
This spicy vegan rice bowl has all the goods - spicy flavor, U.S.-grown brown rice, roasted chickpeas and broccoli, and a delicious sunflower cream!

This recipe was created by Sarah Aldrich in partnership with USA Rice and The FeedFeed.
Servings

2

Prep Time

20 min

Cook Time

30 min

Total Time

50 min
Ingredients
Spicy Rice

1 cup brown long grain rice

pinch of salt

¾ cup spicy salsa
as directed water
Chickpeas

1 (15-ounce) can chickpeas

avocado oil, drizzled

½ teaspoon salt
black pepper, to taste
Sunflower Cream

½ cup sunflower seeds, roasted and unsalted

½ cup water

2 tablespoons olive oil

¼ of lemon fresh lemon juice

1 clove garlic
1 teaspoon salt
Optional Accompaniments

avocado slices

pumpkin seeds
Directions
Preheat your oven to 425 degrees F.

Start by cooking your rice. Use as much water as called for on your package of rice (different varieties have different amounts of water, which is why I'm not providing an amount). Bring rice and water to a boil, then reduce to a simmer and cook until rice is al dente. When done, remove from heat and set aside.
Rinse and drain your can of chickpeas and dry them until they're completely dry. Toss with a drizzle of avocado oil, salt, and pepper, and spread them out onto a baking sheet lined with parchment paper.

Cut your head of broccoli into florets, then toss with a drizzle of avocado oil, salt, and pepper. Spread the florets out onto a SEPARATE baking sheet lined with parchment paper.

Put the two baking sheets in the oven. Take the broccoli out after 20 minutes, and take the chickpeas out after 30 minutes.

While the chickpeas and broccoli are cooking, make the sunflower cream. Add all ingredients into a blender and blend on high until smooth and creamy.

Mix your cooked brown rice with ¾ cup of your favorite spicy salsa.

Now assemble the bowls! Divide out the rice between two bowls. Add in the broccoli and chickpeas, and drizzle with the sunflower cream (you will have some left over). Add on the avocado slices and pumpkin seeds, if desired.

Serve and enjoy!
Recipe Notes
Leftovers for these rice bowls will last in the fridge for about 2-3 days