The Nutritional Power of Rice
Rice is the most popular grain globally and the primary dietary staple for more than half the world's population. Whether you want to improve your nutrition, lose weight, boost your energy, or simply nourish your body, rice can help you achieve your goals. This tiny, but mighty, grain packs a serious nutritional punch.
U.S. Rice Checks all the Boxes
Nutrient Rich
Rice provides more than 15 essential vitamins and minerals including, folic acid, B vitamins, potassium, magnesium, selenium, fiber, iron, and zinc.
Gluten-Free
Rice is gluten-free, highly digestible, and the least allergenic of all grains, making it an important grain option for those with celiac disease, gluten intolerance, or other food sensitivities.
Energy Boost
Rice is a nutrient-dense, complex carbohydrate that the body slowly digests to help you stay energized throughout the day.

Heart Health
Whole grains, such as brown rice, help reduce the risk of heart disease, diabetes, and certain cancers. Rice eaters have a lower risk of high blood pressure.
"Free Food"
U.S.-grown rice is gluten-free, sodium-free, cholesterol-free, and GMO-free.
Makes You Happy
Research shows that eating carbohydrates, like rice, increases levels of the feel-good chemical serotonin, which helps boost mood and keeps appetite in check.
The Role of Rice in Weight Management
When people are looking to lose weight, the first foods often excluded from the diet are carbohydrates. But not all carbohydrates are created equal, and rice in particular is one that offers many health benefits and may assist in maintaining a calorie-controlled eating plan.
Stop avoiding, and start including, rice: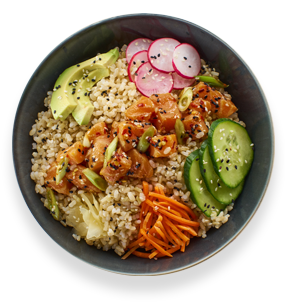 Rice helps you take it down a notch – A recent study showed that people who eat rice were significantly less likely to be overweight or obese; they also had a 34 percent reduced risk for high blood pressure, a 27 percent reduced risk for increased waist circumference, and a 21 percent reduced risk for metabolic syndrome.
Stave off hunger – A human clinical trial published in 2013 reported that having white or brown rice at a meal increased satiety and the feeling of fullness7.
Farewell to fat – Rice is virtually fat-free, containing no trans-fat or saturated fat which can raise LDL cholesterol.
A source of resistant starch – Both white and brown rice are significant sources of resistant starch especially when allowed to cool after cooking, prior to consumption. Resistant starch has shown real promise in promoting fullness and a healthy body weight4.
Whole Grains Explained
Every grain starts life as a whole grain. The whole grain is the entire seed of a plant, including the bran, germ, and endosperm. Together as the whole grain, these components provide protein, fiber, and many important vitamins, minerals, and nutrients. It is recommended that half of one's grain intake should be whole grains.
Research shows that eating whole grains may reduce the risk of coronary heart disease, type 2 diabetes, certain cancers, and may aid in weight maintenance. Like fruits and vegetables, whole grains have been identified as a dietary component contributing to better health outcomes, particularly playing a role in reducing the risk of coronary heart disease and colorectal cancer.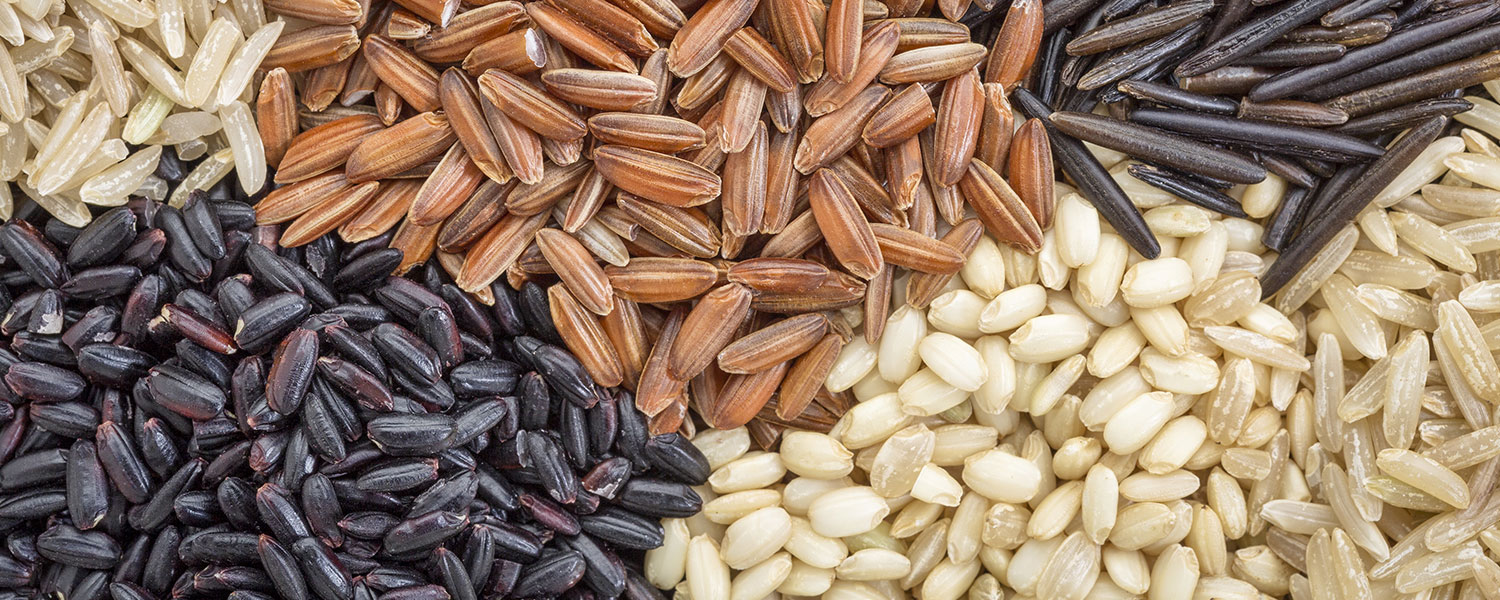 Rice Fits Many Healthy Eating Patterns
Rice is MyPlate Approved
U.S.-grown rice is MyPlate approved! MyPlate, the nutrition guide from USDA's Center for Nutrition Policy and Promotion, helps Americans find their healthy eating plan and build on it throughout life. Specific to rice, MyPlate recommends that healthy eaters make a quarter of their plate grains and that half of consumed grains should be whole grains which provide more nutrients like dietary fiber. The remaining grains may come from refined or enriched grains. Enriched grains contain important B vitamins and iron. U.S.-grown rice is the perfect way to meet this grain recommendation!
For more information, visit MyPlate.gov.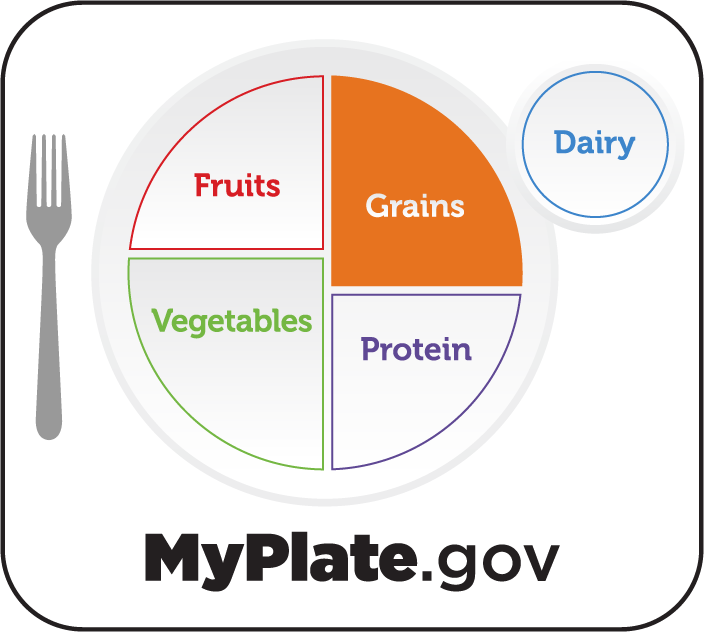 Rice & the Dietary Guidelines for Americans
The 2020-2025 Dietary Guidelines for Americans highlighted the importance of grains, especially whole grains, in a healthy dietary pattern. In addition to fruits and vegetables, whole grains are identified as providing nutrients that contribute to better health outcomes. In the report, the committee concluded that dietary patterns containing whole grains have been associated with lower risk of cardiovascular disease, risk of overweight and obesity, type 2 diabetes, and certain cancers. Rice products such as brown rice and other whole grain-rich rices are key in helping consumers increase whole grain consumption.
Research & References
Batres-Marquez P, Jensen HH, Upton J. Rice consumption in the United States: Recent evidence from food consumption surveys. J Am Diet Assoc. 2009;109:1719-1727.
Fulgoni, V, Fulgoni S, Upton J, Moon M. Diet quality and markers for human health in rice eaters versus non-rice eaters: An analysis of the US NHANES, 1999-2004. Nutrition Today. 2010;45:262-272.
Fung KY, Cosgrove L, Lockett T, Head R, Topping DL. A review of the potential mechanisms for the lowering of colorectal oncogenesis by butyrate. Br J Nutr. 2012 Sep;108(5):820-31. doi: 10.1017/S0007114512001948. Epub 2012 Jun 7.
Higgins JA. Resistant starch and energy balance: impact on weight loss and maintenance. Crit Rev Food Sci Nutr. 2014;54(9):1158-66. doi: 10.1080/10408398.2011.629352.
Nicklas,T.A.,et al.(2014) Rice Consumption Is Associated with Better Nutrient Intake and Diet Quality in Adults: National Health and Nutrition Examination Survey (NHANES) 2005-2010. Food and Nutrition Sciences, 5, 525-532.
Nicklas TA, O'Neil CE, Fulgoni V (2014) Rice Consumption is associated with Better Nutrient Intake and Diet Quality in Children: National Health and Nutrition Examination Survey (NHANES) 2005-2010a. J Nutr Food Sci 4: 262.
Wang XS, Neill MO, Thomas W, Slavin J (2013) White and Brown Rice are Equally Satiating and More Satiating than Glucose Beverage. J Obes Weight Loss Ther 3: 202.