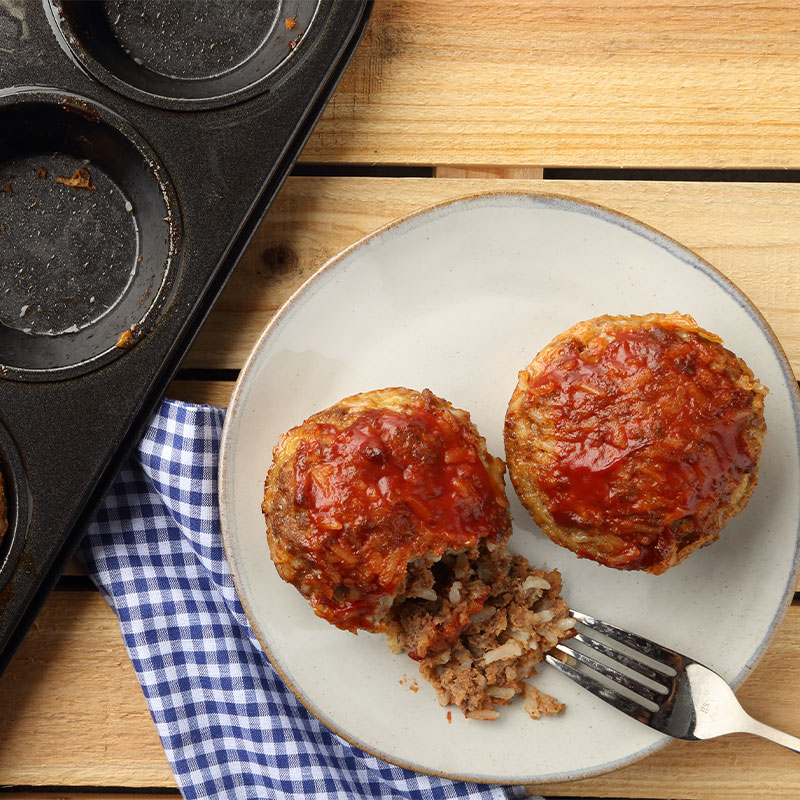 BBQ Rice Muffin Mounds
Beginner chefs will love the hands-on process of creating these tasty BBQ Rice Muffin Mounds! The fun-to-make muffin mounds feature U.S.-grown white long grain rice and come together in just under an hour.

This recipe is part of "The Kids' Kitchen" series, a collection of approachable recipes that teach children the basics of cooking through the preparation, assembly, and plating of each dish (adults are asked to handle any oven or stovetop instructions).
Servings

6

Serving Size

2 muffin mounds

Prep Time

15 min

Cook Time

45 min

Total Time

1 hr
Ingredients
3 cups cooked white rice

1½ pounds 93% lean ground beef

4 eggs, beaten

⅔ cup barbeque sauce

2 teaspoons chili powder

¼ teaspoon salt

⅛ teaspoon black pepper

cooking spray

¼ to ½ cup ketchup
Directions
Combine the rice, beef, eggs, barbeque sauce, chili powder, salt, and black pepper in a large bowl. Using clean hands, mix together the rice ingredients until just blended. (Do not over mix the mixture or it will be tough).

Shape mixture into 12 balls. Place into the 12 muffin cups coated with cooking spray. Bake 30 minutes or until internal temperature reaches 170 degrees F when inserted with a meat thermometer.

Remove from oven, spoon or brush ketchup evenly over each (2 teaspoons each) and let stand on wire rack for 10 minutes to firm up slightly and remove from pan easily. Using a table knife, run around edges to loosen from edges and gently lift.

Makes 12 muffin mounds total.
Recipe Notes
Freeze individual servings for an "on hand" lunch or dinner.

May want to coat the spoon with cooking spray before filling to prevent ketchup from sticking to spoon.
Nutrition Facts
Serving

2 muffin mounds

Calories

400

Total Fat

12g

Saturated Fat

4.5g

Trans Fat

0g

Cholesterol

195mg

Sodium

760mg

Carbohydrates

41g

Dietary Fiber

1g

Sugar

15g

Protein

31g