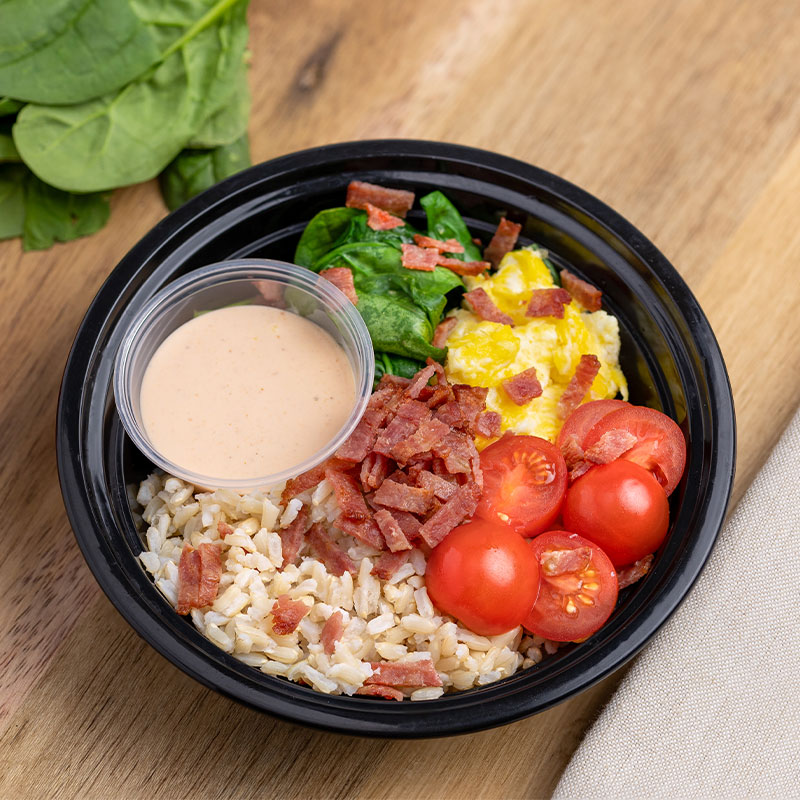 BLT Breakfast Rice Bowl
Students of all ages will love this hearty and fun breakfast! Our BLT Breakfast Rice Bowl brings together the savory appeal of turkey bacon, scrambled egg and U.S.-grown brown rice, served with colorful vegetables and sriracha ranch dressing.

This tasty K-12 school recipe was created for us by our friend Chef Sam Cowens-Gasbarro. Click on the PDF below to download the full recipe with crediting from the USDA Food Buying Guide recipe analysis workbook (RAW).
Ingredients
Rice & Bowl Toppings

3 pounds, 2 ounces long grain brown rice, dry

3 quarts, ½ cup water

2 teaspoons kosher salt

5 pounds,10 ounces scrambled egg

1 pound 9 ounces turkey bacon, fully cooked

4 pounds fresh spinach, wilted (¼ cup per serving)
4 ¾ pounds cherry tomatoes, halved
Sriracha Ranch

42 ounces reduced-fat ranch dressing

8 ounces sriracha
Directions
Rice

Combine rice, water, and salt into a 2-inch half-size steamtable pan. Stir to combine. Cover tightly. For 50 servings use 1 pan.

Oven Method: Cook in a 350 °F oven for 50 to 60 minutes.
Steamer Method: Cook in a steamer for 30 to 40 minutes.

Remove from oven or steamer and let stand for 15 minutes.
Remove cover; fluff rice with a fork before serving.
CCP: Hold warm, above 135 °F for service.
Bowl Toppings

Scramble eggs according to package directions.

Place bacon slices on baking sheet in a single layer; heat in oven for 7 to 8 minutes (conventional). Remove and chop or crumble.
To wilt the spinach, place spinach in a perforated steamtable pan. Place in steamer for 1 minute. Be careful not to overcook.
Sriracha Ranch

Mix ranch dressing and sriracha together.
CCP: hold cold for service, below 41 °F.
Serve 1 ounce per bowl.
Bowl Assembly

Place ½ cup (#8 scoop) of brown rice in each serving bowl.

Around the rice place ¼ cup (#16 scoop) scrambled eggs.

Add ¼ cup (#16 scoop) of wilted spinach.

Add ¼ cup (#16 scoop) cherry tomatoes. About 5 cherry tomato halves.

Garnish with ½ ounce chopped turkey bacon.

Serve with 1-ounce Sriracha ranch.
Recipe Notes
One portion provides 1 oz. eq. grain, 2 oz. eq. meat/meat alternate, ½ cup vegetable

Recipe source: Samantha Cowens-Gasbarro, Healthy School Recipes
Nutrition Facts
Calories

290

Total Fat

10g

Saturated Fat

2g

Cholesterol

160mg

Sodium

680mg

Carbohydrates

38g

Dietary Fiber

3g

Sugar

7g

Protein

13g