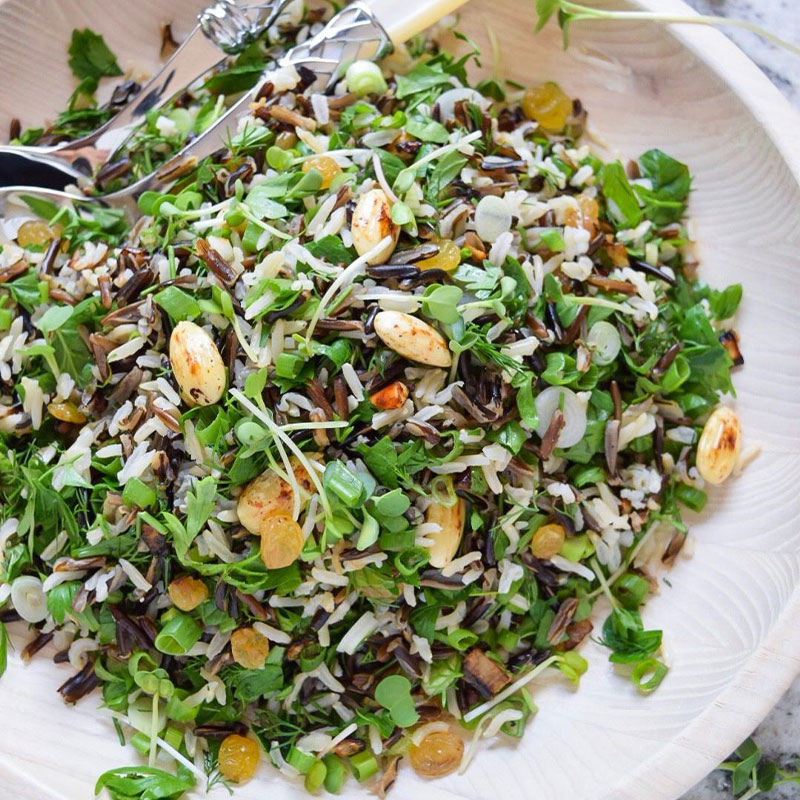 California Wild Rice and Microgreen Salad
Our Wild Rice and Microgreen Salad is the perfect option for entertaining or an easy weekday lunch. It features a blend of U.S.-grown brown rice and California-grown wild rice and comes together quickly with lots of flavor from fresh herbs, almonds, and golden raisins.

This healthy and vegan rice recipe comes to us from our friend Victoria of @sincerelyv_plantbased in partnership USA Rice and Thefeedfeed.
Servings

4-8

Prep Time

30 min

Cook Time

40 min

Total Time

1 hr 10 min
Ingredients
1/2 cup California wild rice

1/2 cup brown long grain rice

1/2 cup chopped spring onion

1/2 cup chopped flat leaf parsley

1/2 cup chopped coriander

1/4 cup chopped mint leaves

1/2 cup chopped dill

1 small red onion

2 tablespoons olive oil

1/4 cup blanched almonds

1/4 cup golden raisins

salt and pepper, to taste

lemon, juice, to taste

extra virgin olive oil, to taste
Directions
Soak the raisins in cold water. Preferably overnight or at least for couple of hours. Cook the rice according to the packaging instructions. Once it's cooked, fluff it with the fork and let it cool in a big mixing bowl.

In the meantime, chop the red onion and fry it in olive oil until golden brown. Scoop it into the mixing bowl with rice. In the same pan toast almonds, then raisins. Add them into the bowl with the rest of the ingredients.

Mix all the herbs and rice thoroughly, season with sea salt and pepper, add a dash of extra virgin olive oil if you like, and a generous squeeze of lemon.
Recipe Notes
Add a little twist to this recipe by soaking the raisins in a tablespoon of hot water and a juice of 1 lemon. The result? A super tart burst of flavor that will leave you wanting more!