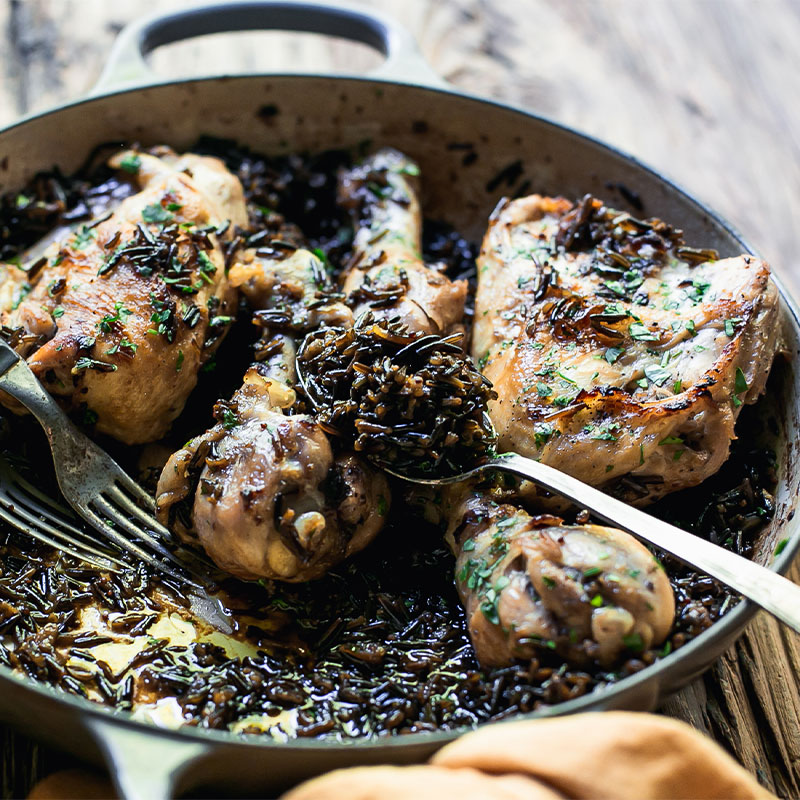 Cider Braised Chicken with Wild Rice
This one pot Cider Braised Chicken and Wild Rice is a dish you need in your back pocket for this fall! Its homey, delicious, and comes to us from our friend by Ashley Cuoco in partnership with The FeedFeed and USA Rice.
Servings

4

Prep Time

10 min

Cook Time

1 hr 15 min

Total Time

1 hr 25 min
Ingredients
2-3 lbs chicken pieces, skin-on & bone-in

salt and freshly ground black pepper

2 tablespoons olive oil

1 shallot, finely chopped

2 cups apple cider

1 cup bone or chicken broth

2 tablespoons coarse grain dijon mustard

1 cup Wild Rice, uncooked

½ cup unsalted butter

2 tablespoons fresh parsley, chopped
Directions
Heat a large enameled cast-iron braising pan with lid over medium heat until very hot. Add oil and shallot to pan, sautéing until soft, about 1-2 minutes. Stir frequently, being careful not to burn. Add thighs and sear skin side down for 4 minutes on each side. Transfer to a plate. When cool enough to handle, slip 1 Tablespoon of butter underneath the skin of each thigh. This will fry the skin from the inside out, resulting in super crispy skin!


Pour the cider and wine into the pan and bring to a boil, scraping off the bits from the bottom of the pan with the edge of a wooden spoon. Let reduce for 5 minutes.


Add the broth and stir in mustard. Bring to a boil. Add rice, cover and carefully transfer to the oven for 20 minutes. Return chicken to pan, skin side up. Cover and transfer to the oven for 45-50 minutes more or until rice is cooked* and the internal temperature of the chicken reads 165F on a digital-read thermometer. Uncover and broil chicken for the last 5 minutes of cooking. Stir in ¼ cup butter and parsley and serve.
Recipe Notes
Wild rice cooks very slowly. If chicken is cooked but rice needs more time, remove chicken from the pan and cook on medium heat on stovetop, covered, an additional 10-15 minutes until rice is tender and no longer crunchy. Almost all of the liquid should be absorbed.