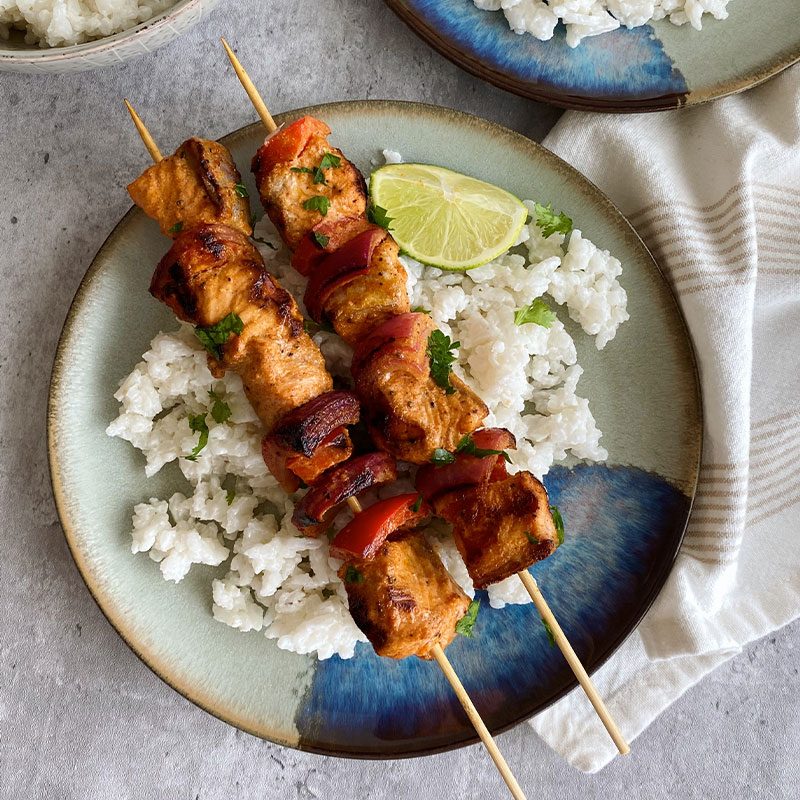 Creamy Coconut Rice with Spiced Salmon Skewers
Both nutritious and delicious, this easy weeknight recipe comes together in just forty minutes!

This dish stars U.S.-grown Arborio rice and comes to us from our friend Gal of Something Nutritious.
Servings

4

Prep Time

20 min

Cook Time

20 min

Total Time

40 min
Ingredients
1 cup U.S-grown Arborio rice, or other medium grain rice

1 can of full-fat coconut milk, 13.66 oz

¾ cups water

½ teaspoon salt, plus more to taste
juice from ½ lime
Salmon Skewers

1 lb skinless salmon

1 red bell peppers, sliced

½ red onion, sliced

juice from ½ lemon

1 tablespoon olive oil, plus more to grill

½ teaspoon salt

½ teaspoon cumin

½ teaspoon garlic powder

½ teaspoon paprika

¼ teaspoon black pepper

cilantro + lime juice, to top
Directions
Cut the salmon into 1" cubes and add it to a bowl with the sliced peppers and onion.

Marinate the mixture in the lemon juice, olive oil and spices for 15 minutes.

While that's marinating, prepare your U.S-grown rice by adding the rice, coconut milk, water and salt to a saucepan and bringing it to a boil. Once boiling, cover with a lid, reduce the flame to low and let it simmer for about 20 minutes until all the water is absorbed.

Let it sit for 10 minutes, then add in the lime juice and additional salt if needed.

Layer the salmon cubes with the peppers and onions on wooden skewers, it should fill about 6.

Heat a grill pan with 1 tbsp of olive oil, and cook each side of the skewer for about 1-2 minutes, until browned.

Serve fresh over your coconut rice, topped with a little lime juice and cilantro!