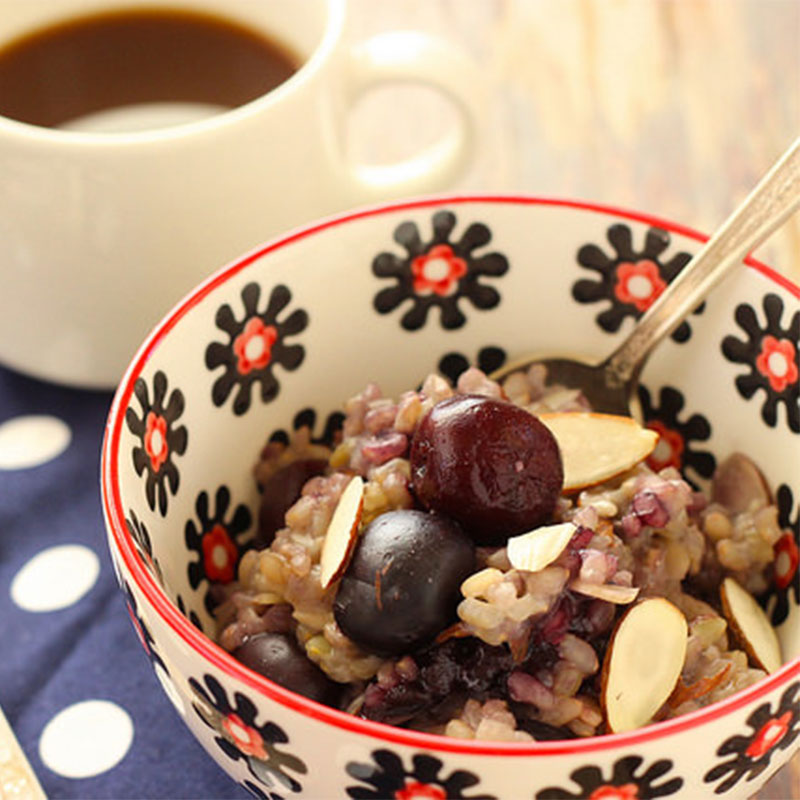 Sweet Cherry Almond Breakfast Risotto
Recipe developed for USA Rice by Anne Danahy, Registered Dietitian/Nutritionist and blogger behind Craving Something Healthy.
Servings

6

Serving Size

¾ cup

Prep Time

10 min

Cook Time

1 hr 30 min

Total Time

1 hr 40 min
Ingredients
1 cup calrose rice

2½ cups unsweetened vanilla almond milk

½ teaspoon almond extract

pinch of salt

2 tablespoons maple syrup

1 (12-ounce) package frozen sweet cherries

½ cup sliced almonds
Directions
Mix together rice, almond milk, almond extract, salt and maple sugar in a slow cooker, and set to high. Cook, stirring occasionally for 1 hour, or until rice starts to plump and absorbs about half of the milk.

Add frozen cherries and almonds and stir to combine. Reduce heat to low and cook for another 30 minutes or until rice is soft and chewy. Serve hot or cold.
Recipe Notes
Refrigerate leftovers in a covered container and reheat or eat cold, adding additional almond milk if necessary.
Nutrition Facts
Serving

¾ cup

Calories

230

Total Fat

6g

Saturated Fat

.5g

Trans Fat

0g

Cholesterol

0mg

Sodium

105mg

Carbohydrates

42g

Dietary Fiber

5g

Sugar

12g

Protein

5g