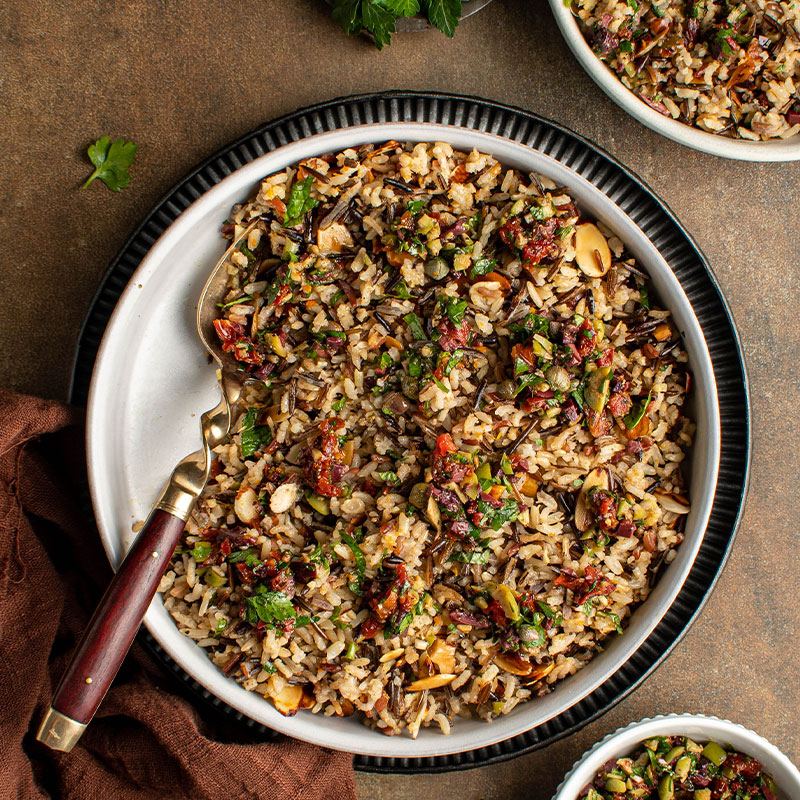 Baked Jeweled Wild Rice
Move over entrees, this baked rice side dish is so flavorful that you might just make it the star of your meal! It's cooked with warm spices, finished with almonds and orange zest, and topped with sun-dried tomato olive tapenade.

This recipe features a blend of U.S.-grown brown and wild rice and comes to us from our friend Christine Ma of @cherryonmysundae in partnership with USA Rice and Thefeedfeed.
Servings

4

Prep Time

40 min

Cook Time

1 hr

Total Time

1 hr 40 min
Ingredients
1 cup U.S.-grown wild rice blend

2 garlic cloves, minced

1 teaspoon cumin

1 teaspoon coriander

kosher salt, to taste

black pepper, to taste

¼ teaspoon ground fennel

2 cups boiling water

2 tablespoons unsalted butter, melted

½ cup toasted sliced almonds

2 tablespoons chopped fresh mint

1 teaspoon orange zest

olive sun-dried tomato tapenade

⅓ cup chopped kalamata olives

⅓ cup chopped castelvetrano olives

⅓ cup chopped sun-dried tomatoes

⅓ cup chopped parsley

1 garlic minced

1 tablespoon capers

1 tablespoon lemon juice

¼ cup extra virgin olive oil

salt and pepper
Directions
Preheat oven to 350 degrees F.

Combine wild rice blend with minced garlic, cumin, coriander, salt, pepper, fennel in baking dish or Dutch oven. Pour boiling water and melted butter and stir to combine. Cover and bake for 1 hour or until tender, stirring rice halfway through. If rice appears dry, add more water as needed.

Meanwhile, make the tapenade. Combine all ingredients in a medium bowl including olives, sun-dried tomatoes, parsley, garlic, capers, lemon juice, and olive oil. Season with salt and pepper. Let sit for at least 30 minutes.

Remove rice from oven and let sit for 10 minutes. Remove lid and fluff rice with fork. Add almonds, mint, and orange zest, stirring to combine. Drizzle tapenade on top and serve.