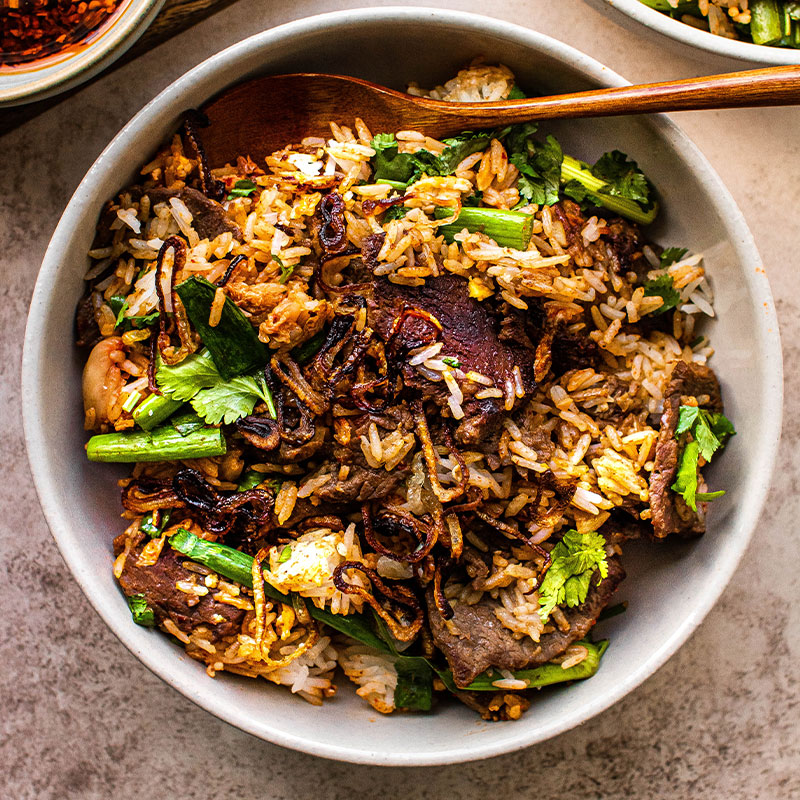 Bulgogi-Style Beef Fried Rice
Looking for an easy weeknight meal that will still impress your friends? Well this Bulgogi-Style Fried Rice from @jennygoycochea checks all the boxes!

This dish is gluten-free, serves 4, and comes together in just 30 minutes!
Servings

4

Serving Size

1 bowl

Prep Time

15 min

Cook Time

15 min

Total Time

30 min
Ingredients
Beef and Marinade

1½ pounds ribeye steak, sliced between 1/8"-1/4" thick

2/3 cup soy sauce

1/4 cup mirin

1/2 Asian pear

1 bunch green onions (white and light green parts only, reserve tops for later)

4 cloves garlic

1 tablespoon freshly grated ginger

1 tablespoon brown sugar
1 teaspoon dark sesame oil
Fried Rice

1/4 cup soy sauce

1 tablespoon oyster sauce

1 teaspoon freshly grated ginger

3 tablespoons neutral oil

1 medium shallot, peeled and thinly sliced

2 carrots, peeled and finely diced

3 garlic cloves, minced

5 cups leftover jasmine rice

2 eggs, lightly beaten

1¼ cups kimchi, chopped

1 bunch green onion tops, sliced (see note above)

chopped cilantro

salt and pepper, to taste
Directions
Place sliced beef in a large gallon-sized zip-top bag. Add the remaining ingredients for the marinade to the carafe of a blender and blend on high until smooth. Pour the marinade over the beef and marinate in the fridge for at least 1 hour, up to 8 hours.

In a small bowl, whisk together the soy sauce, oyster sauce, and teaspoon of grated ginger. Set aside.

Heat a wok over medium-high heat and add neutral oil. Once the oil is hot and shimmering, add shallot. Cook for 4-5 minutes, stirring occasionally, until shallots are golden brown (take care to not burn them!) Using a slotted spoon or fork, transfer to a paper towel-lined plate and set aside.

Increase wok to high heat (the oil from the fried shallots should still be in the pan). Remove beef from marinade, shaking off any excess, and add to the wok in a single layer. Cook for 2 minutes on one side until golden brown, then flip. Add carrots and garlic to the pan and stir to combine. Cook for another 2-3 minutes, stirring often so the garlic doesn't burn, until the carrots are softened.

One the carrots are softened, add the rice and stir so the grains are coated with oil. Lower heat to medium and push the rice mixture to one side of wok. Pour the lightly beaten eggs onto the other side of wok and cook for 2-3 minutes until the eggs are cooked through. Using a wooden spoon, break up the egg into pieces, then stir all the ingredients so that the egg is incorporated into the rice. Add kimchi and soy sauce mixture to the pan and cook, stirring constantly, until all the sauce has been absorbed. Add green onion tops, season to taste with salt and pepper..

Serve topped with the crispy shallots and sprinkled with cilantro, if desired.
Recipe Notes
It's important to use leftover or day-old rice for fried rice because it's had a chance to dry out a bit and therefore will cook and absorb sauce without becoming overcooked and mushy. If you don't have leftover rice, steam your rice according to your rice cooker's instructions and then spread it out on a baking sheet in the fridge for an hour or two to dry it out a bit.