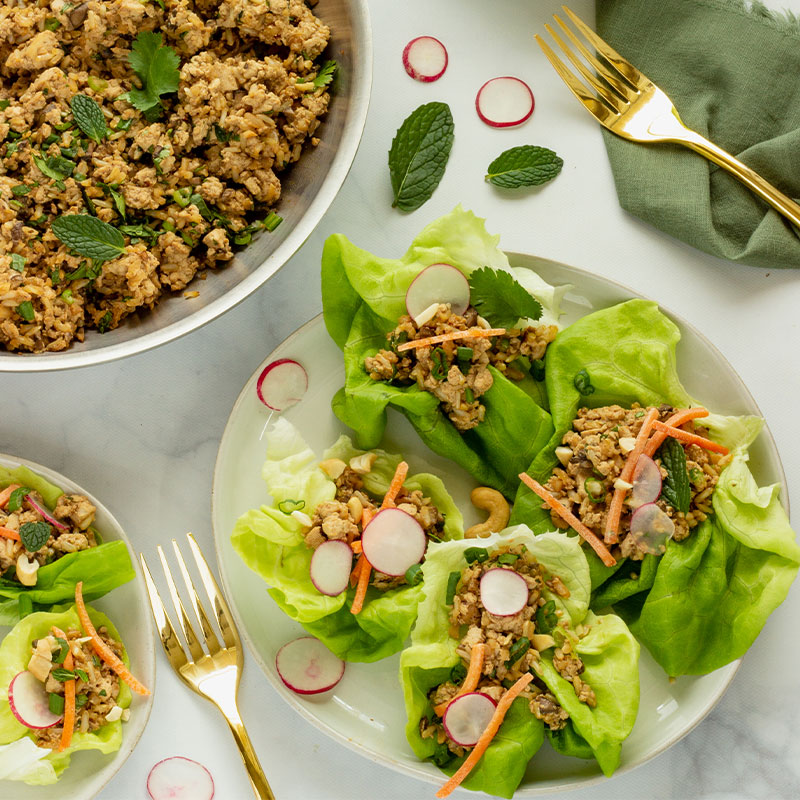 Easy Tofu Lettuce Wraps
Whether you're in the mood for a quick and nutritious lunch or you want a light and healthy game-day snack, these easy, flavorful tofu lettuce wraps are calling your name!

This recipe stars U.S.-grown jasmine rice and comes to us from our friend Anne of Craving Something Healthy in partnership with USA Rice.
Servings

5

Serving Size

2 Wraps

Prep Time

30 min

Cook Time

10 min

Total Time

40 min
Ingredients
Sauce

3 tablespoons tamari or soy sauce reduced sodium

3 tablespoons hoisin sauce

2 teaspoons chili paste

1 tablespoon fresh lime juice
2 teaspoons sesame oil
Tofu Filling

1 tablespoon olive oil

2 medium garlic cloves

2 teaspoons minced ginger

1 cup minced mushrooms about 4 ounces

14 ounces firm tofu, drained and pressed*

1½ cups cooked U.S.-grown jasmine rice

2 tablespoons sliced green onion

2 tablespoons minced fresh cilantro

1 tablespoon minced fresh mint
10 leaves crisp butter or Romaine lettuce
Toppings

5 medium radishes thinly sliced

1 cup shredded carrots

½ cup chopped cashews

minced scallions, cilantro, mint
Directions
For the Tofu Filling

Heat the olive oil in a saute pan over medium-high heat. Add the garlic and ginger, and saute for 30 seconds or until fragrant. Do not let the garlic burn!

Add the minced mushrooms to the pan. Saute for about 2 minutes until the mushrooms are soft and any liquid has cooked off.

Crumble the tofu into the mushrooms, using a spatula to break it up further. Cook for another 2-3 minutes or until any liquid has cooked off.

Add the sauce to the tofu-mushroom mixture and stir well to combine.

Add the rice and reduce the heat to low. The mixture should be moist. If it seems too wet, let it cook for another 2 minutes or until the excess sauce cooks off.
Remove the pan from the heat and let it cool for 10 minutes. Stir in the green onion, cilantro, and fresh mint.
To Assemble

Place 1-2 tablespoons of the tofu filling in the center of each lettuce leaf.

Add fresh vegetable toppings, a sprinkle of herbs, and a sprinkle of cashews to each lettuce wrap.

Gently fold over to eat.
Recipe Notes
*To ensure your tofu lettuce wraps aren't watery, drain the tofu and press it for at least 30 minutes before starting the recipe
Nutrition Facts
Serving

1 wrap

Calories

152kcal

Total Fat

8g

Saturated Fat

1g

Cholesterol

.1mg

Sodium

397mg

Carbohydrates

15g

Dietary Fiber

2g

Sugar

3g

Protein

7g