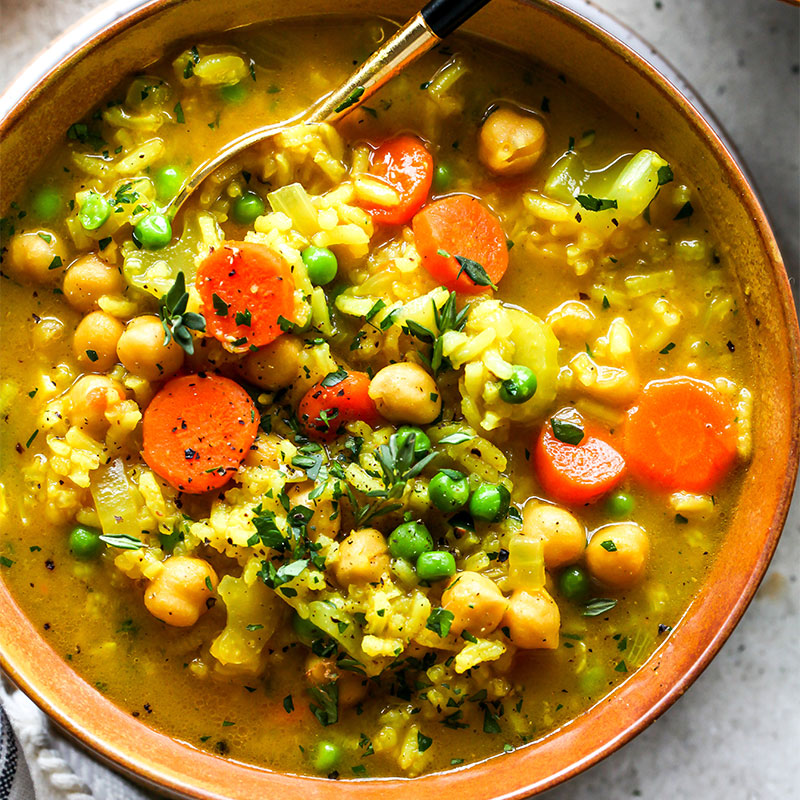 Chickpea and Rice Soup
This nourishing Chickpea and Rice Soup is the ultimate no-fuss winter warmer. Made in one pot with pantry staple ingredients, it's a feel-good, gluten-free, fill-you-up soup the whole family will love.

This vegetarian recipe stars U.S.-grown long grain rice and comes to us from our friend Jamie Vespa MS, RD.
Servings

5

Prep Time

10 min

Cook Time

35 min

Total Time

45 min
Ingredients
2 tablespoons olive oil

1 small yellow onion, finely chopped

2 medium carrots, thinly sliced

2 celery stalks, finely chopped

5 garlic cloves, minced

1 tablespoon. freshly grated ginger (sub 1½ teaspoon ground ginger)

¾ teaspoon ground turmeric

1 teaspoon kosher salt

¾ teaspoon freshly cracked black pepper, plus for garnish

6 thyme sprigs

¾ cup dry long grain white rice

1 (15-oz.) can chickpeas, rinsed and drained

6 cups vegetable broth (sub chicken broth if not making vegetarian)

2 tablespoons finely chopped fresh parsley, plus more for garnish
Directions
Heat oil in a Dutch oven or large stock pot over medium-high heat. Add onions, carrots, and celery; cook until vegetables soften, about 10 minutes. Stir in garlic, ginger, turmeric, salt, pepper, and fresh thyme; cook 2 more minutes, stirring often, until aromatic.

Stir in U.S.-grown Long Grain White Rice, and cook for two minutes, allowing the rice to lightly toast. Stir in chickpeas and broth, and bring soup to a boil. Cover, reduce heat to low, and simmer soup for 20 minutes, until the rice is tender. (Do not remove the lid during this time, which could disrupt the rice cooking process.)

Remove lid and stir in fresh parsley. Taste and adjust seasonings as needed, ladle soup into bowls, and garnish with additional fresh parsley and cracked black pepper. Serve with a slice of crusty bread and/or side salad, if desired.
Recipe Notes
To Store: Let soup cool to room temperature before placing leftovers in an airtight storage container. Refrigerate leftover soup for up to 5 days.

To Reheat: Gently rewarm soup in a small saucepan on the stove over medium heat until hot. You can also reheat individual portions in the microwave, stopping to stir every 30 to 45 seconds.

To Freeze: Store soup in an airtight freezer-safe storage container in the freezer for up to 3 months. Let thaw overnight in the refrigerator before reheating.
Nutrition Facts
Serving

1.6 cups

Calories

300

Total Fat

10g

Saturated Fat

1g

Sodium

920mg

Carbohydrates

47g

Dietary Fiber

7g

Sugar

7g

Protein

9g