Where Rice Grows in the USA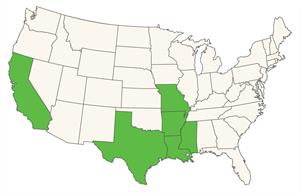 Each year, American rice farmers sustainably grow roughly 20 billion pounds of rice in Arkansas, California, Louisiana, Mississippi, Missouri, and Texas. Half of the rice crop is consumed in the United States, accounting for 80 percent of the rice consumed domestically. The other half of the crop is exported to more than 120 countries around the globe.
The U.S. rice industry provides critical jobs in rural areas throughout the country. As a whole, the rice industry contributes in excess of $34 billion to the U.S. economy annually and provides jobs for more than 125,000 individuals in the United States.
Read more about the importance of the rice industries in the six major rice-producing states.