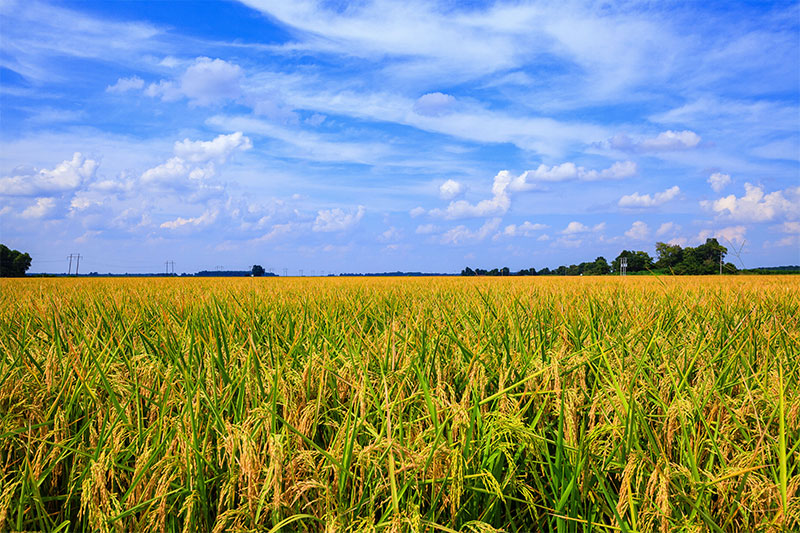 Louisiana
Louisiana is the 3rd largest rice-producing state
>425,000 acres of rice planted on 823 farms in 2019
Rice production contributes >$308 million to the state economy
Overview
Louisiana's cuisine is world famous—due in no small part to its rice! Louisiana is one of the nation's top three rice-producing states, growing mostly long grain rice. While southwestern Louisiana is the primary center for rice production and milling, rice is also grown in the northeastern part of the state.
History
Rice traveled south from the Carolinas to Louisiana with Acadian settlers. Louisiana rice was originally grown for home consumption by utilizing areas that couldn't be plowed. Farmers tossed rice seeds into wetlands near bayous and ponds. What rice grew from this casual method was deemed "providence rice" by its thankful harvesters.

Commercial rice production began in earnest in the second half of the 19th century, helped along by the railroad which transported the crop to New Orleans. Starting in 1936, Louisiana has hosted the annual International Rice Festival to celebrate the state's rice industry in Crowley, Louisiana. Today, the event draws more than 150,000 visitors from around the world.
Economy
Rice is one of the state's top agricultural exports. In 2019, more than 425,000 acres of rice were planted on 823 farms. Rice production and processing both play important roles in the state, generating annual economic activity of almost $308 million and accounting for thousands of jobs.
Environment
Louisiana's rice farmers combine the best of rice farming practices with environmental stewardship. In winter, water can be held on rice fields and provide vital resting areas and a food resource for migrating waterfowl. Rice fields also support other wetland-dependent wildlife species.
Farmers from the State