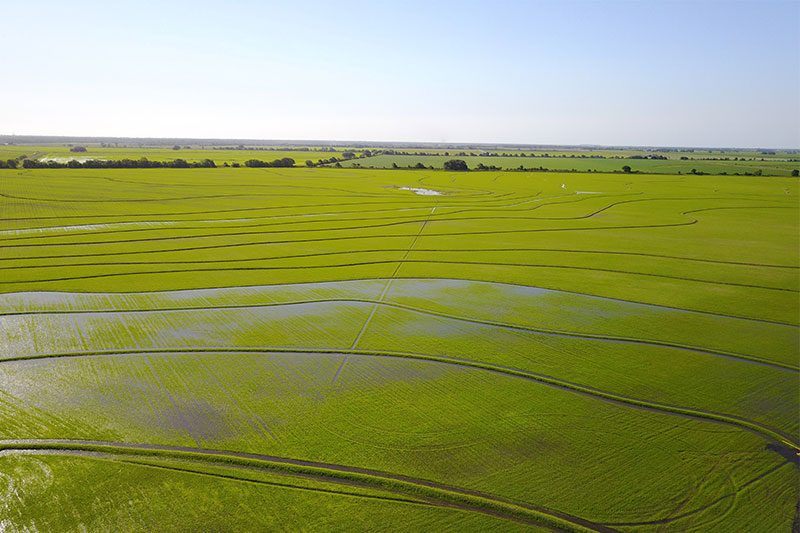 Texas
Texas ranks 5th in rice production
>157,000 acres of rice planted on 272 farms in 2019
Rice production contributes >$140 million to the state economy
Overview
The upper Texas coast is home to most of the state's rice production and milling industry. The Texas Rice Belt plays an important environmental, as well as agricultural, role in the coastal prairie. Texas produces mostly long grain rice, which cooks up as separate, fluffy grains. Versatile long grain rice is often used for recipes requiring rice grains with a distinct shape and texture.
History
Rice was first cultivated in Texas primarily for home or local consumption, using pioneer farming methods. Oxen were used to plow small plots, which were planted by hand. The crop depended on rainfall. Commercial production began in earnest in the 1880s—helped along by the railroad, affordable land, immigration from Louisiana and other grain-producing areas, and the introduction of modern rice milling.

A significant event occurred in 1904, when seed rice from Japan was introduced. The Houston Chamber of Commerce and the Southern Pacific Railroad invited Japanese farmers to Texas to advise local rice producers. The Japanese farmers arrived with seed, a gift from the emperor of Japan. This event was a turning point in the establishment of the Texas rice industry.
Economy
Due to water availability issues, Texas has seen a decrease in rice acres in recent years. In 2019, more than 157,000 acres of rice were planted on 272 farms. Rice production and processing both play important roles, contributing more than $140 million to the state's economy each year and accounting for thousands of real wage jobs in the state.
Environment
Rice production is unique in its ability to supplement wildlife habitats. Winter-flooded rice fields cover vital freshwater wetland functions in the Upper Texas Gulf Coast ecosystem. Texas rice fields offer forage and roosting habitats for resident, wintering and migrating waterfowl and shorebirds, as well as other wetland-dependent wildlife species.
Farmers from the State