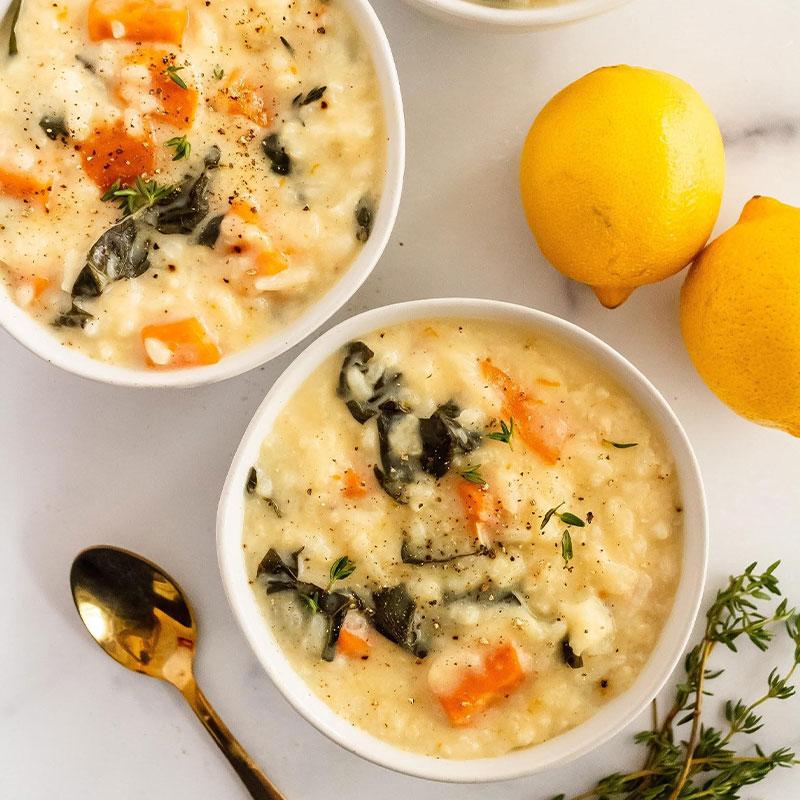 Chicken Lemon Rice Soup with Butternut Squash & Kale
This delicious one pot Chicken Lemon Rice Soup recipe stars U.S.-grown long grain rice and comes to us from our friend Maggie of Once Upon a Pumpkin.
Servings

4-5

Prep Time

20 min

Cook Time

25 min

Total Time

45 min
Ingredients
5 cups chicken stock

2 cups long-grain white rice

1½ cup shredded chicken

2 cups lacinato kale, washed and destemed, cut into smaller pieces

1½ cup cubed butternut squash

1 tablespoon olive oil

2 egg yolks

juice of 3 lemons

1 tablespoon fresh thyme

2 teaspoons salt

1 teaspoon freshly ground black pepper + more on top
Directions
Prepare rice according to package directions in a rice cooker or on the stovetop.

While the rice is cooking, peel and cube the butternut squash, cutting into small cubes. Toss with 1 tbsp. Of olive oil and bake at 375 degrees F for 15-20 minutes until fork tender. Set aside.

Once the rice has cooked add 1 cup to a blender along with the egg yolks, 1½ cup of chicken stock, and lemon juice. Blend until combined.

Heat the rest of the chicken stock over medium to high heat. Add the mixture from the blender, the rest of the rice, cooked butternut squash and fresh thyme. Stir together and add the kale pieces.

Let simmer on low for 10-15 minutes as the soup thickens. You can always add more chicken stock to thin it out.

Remove from heat and enjoy with extra fresh black pepper and more lemon juice squeezed on top if desired. Store covered in the fridge for 3-4 days.