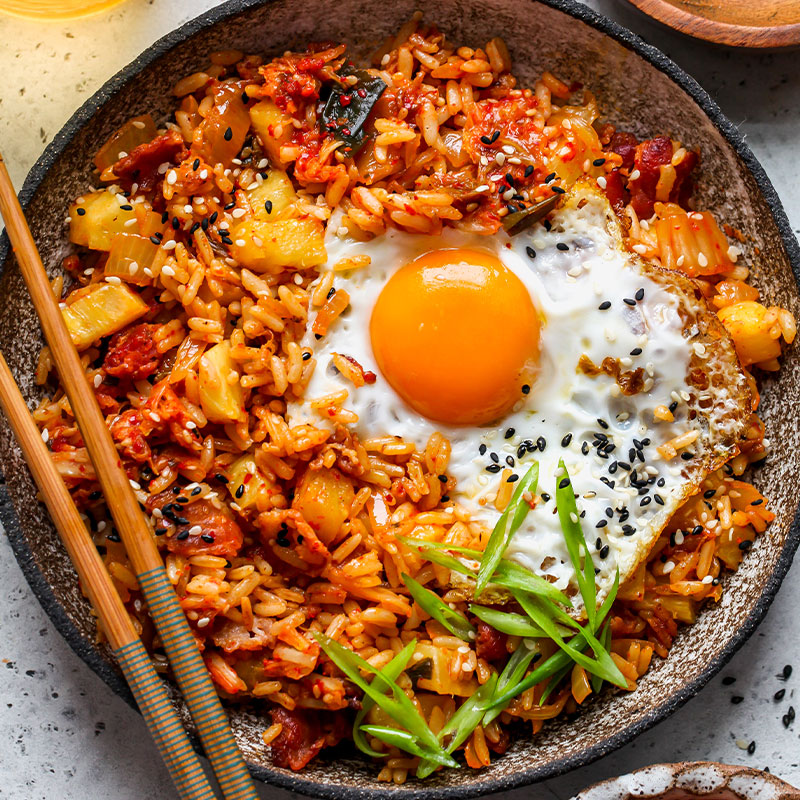 Kimchi and Pineapple Fried Rice
This 20-minute meal knocks it out of the park! Bringing together both savory and sweet, it delivers takeout-worthy flavor with RD-approved nutrition. It's also a great way to repurpose leftover rice!

This dish stars U.S.-grown basmati rice and comes to us from our friend Jamie Vespa of Dishing Out Health in partnership with USA Rice.
Servings

3

Total Time

20 min
Ingredients
3 slices uncured center-cut bacon, diced

½ cup chopped yellow onion

¾ cup roughly chopped kimchi, plus more for garnish

2 cups cooked and cooled U.S.-grown Basmati Rice (or Jasmine)

1 tablespoon soy sauce or tamari

1 cup pineapple chunks

¼ cup thinly sliced green onion

1 to 2 teaspoons sesame oil

3 fried eggs for serving

sesame seeds for serving
Directions
Add bacon to a large cold skillet. Turn heat to medium and cook bacon until crisp, stirring often. (As the pan gradually heats up, the fat will slowly render from the bacon, encouraging even cooking.) Spoon bacon into a bowl and leave residual grease in pan.

Add onion to pan; cook until soft, about 3 minutes. Add kimchi; gently simmer for 3 to 4 minutes, until most of the juice is evaporated. Add rice and soy sauce; use a spatula to break up any clumps and stir to incorporate. Press rice into a single flat layer and let cook, undisturbed, for 2 minutes, allowing the grains to slightly crisp.

Stir in pineapple chunks and cooked bacon; continue cooking, undisturbed, for 2 to 3 more minutes. (The sugar from the pineapple should encourage the rice to further crisp and caramelize.)

Spoon fried rice into bowls and garnish with green onion. Drizzle sesame oil over each serving, and top with a fried egg, sesame seeds, and extra kimchi, if desired.