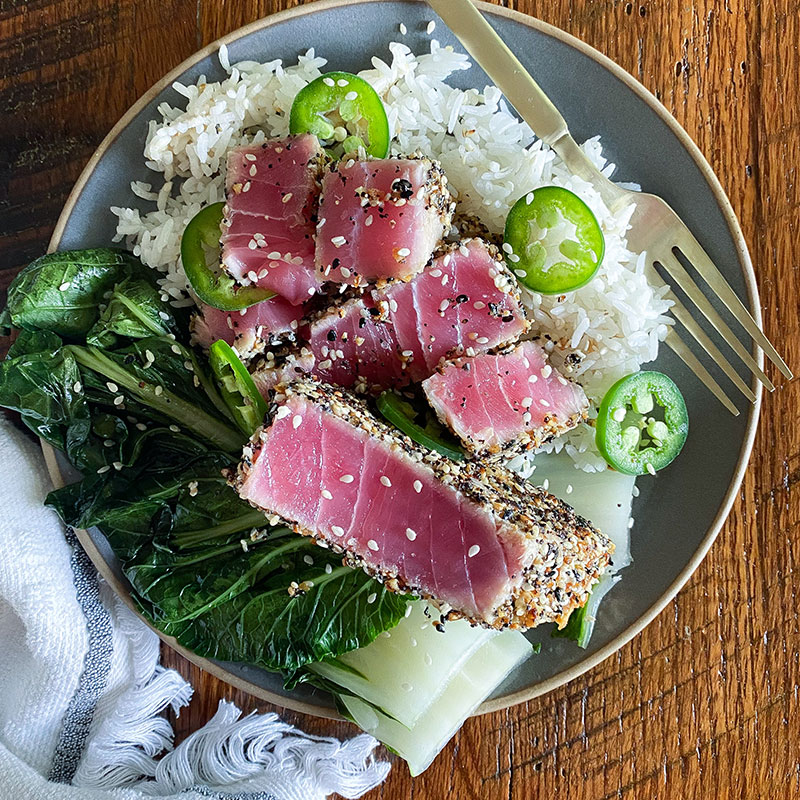 Everything Bagel Seared Tuna Steak
This dish has it all- everything bagel seasoning, tasty tuna steak, and U.S.-grown rice! The healthy and easy to make bowl will leave your guests both impressed and full. This recipe features U.S.-grown white rice and was developed by our friends at the Seafood Nutrition Partnership.
Servings

2-4

Serving Size

1 plate

Prep Time

14 min

Cook Time

1 min

Total Time

15 min
Ingredients
2 cups medium or short grain rice, cooked
1-2 medium tuna steaks (sushi grade)
1 egg
4 tablespoons of everything bagel seasoning
1½ tablespoons sesame seeds
2 teaspoons coarse black pepper
¾ teaspoons sea salt
optional sauce of sauce of ginger, lime, wasabi, and soy sauce
optional toppings of jalapenos and leafy greens
Directions
In a flat-bottomed bowl, mix everything seasoning, sesame seeds, coarse black pepper, and sea salt. Set aside and beat 1 egg in a small bowl.
Pat dry tuna steaks, then coat in egg and dredge in the everything crust mixture.
Set the coated tuna steaks to the side and in a cast-iron skillet heat 2-3 tablespoons of sesame oil on high/medium-high heat.
When the oil is hot, place your tuna steaks in the pan, moving them carefully so that the everything coating stays intact. Cook 30 seconds per side, including the edges.
Remove from the skillet and slice thinly with a sharp knife, cutting across the grain of the tuna.
Place over bed of cooked white rice and serve immediately.
If desired, add sauce combination and top with jalapenos and greens.