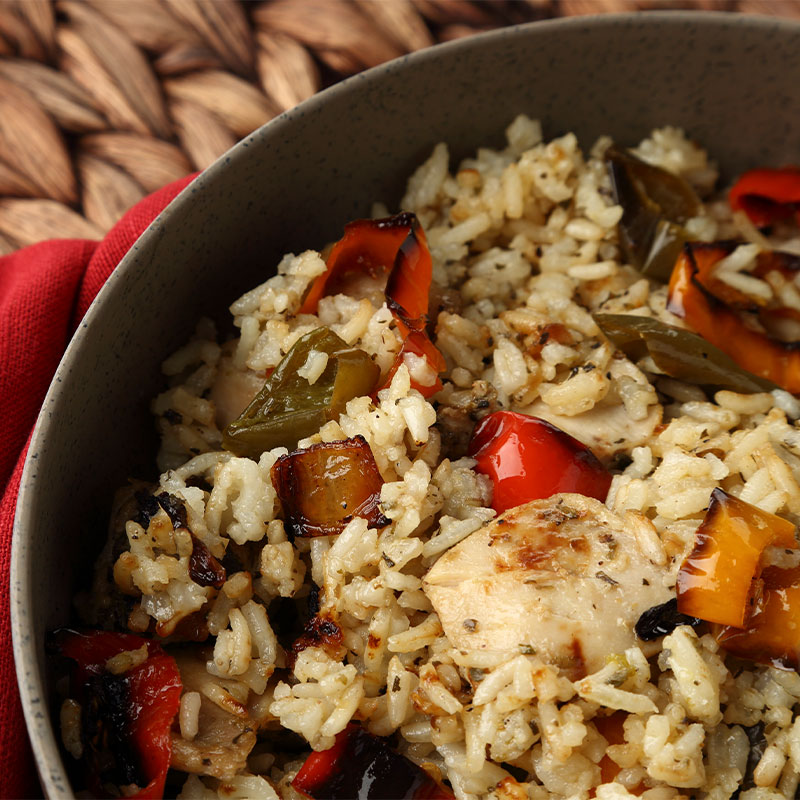 Roasted Pepper Rice with Chicken
Servings

24

Serving Size

1 cup
Ingredients
3 lbs green bell peppers (stemmed and seeded), cut into 1' pieces

5 cups long grain rice, uncooked

1 lb multi-colored sweet petite peppers (stemmed), cut into ½ inch thick rounds

2 cups onion, chopped

⅔ cup extra virgin olive oil, divided use

2 (32-ounce) cartons of chicken broth

4 lbs boneless chicken thighs, cut into 1½ ' pieces

¼ cup oregano leaves

¼ cup dried basil leaves

12 garlic cloves, peeled and minced

1½ tablespoon salt

1 teaspoon black pepper
Directions
Preheat oven to 500 degrees F.

Combine peppers, onions, and 1/4 cup of the oil and toss until well coated. Place on 2 foil-lined sheet pans or large baking sheets. Arrange in a thin layer. Roast 20 minutes, stir vegetables and alternate oven racks, roast 10-15 minutes or until vegetables are richly charred on edges and tender. Remove from oven, cover with foil and set aside on baking sheets.

Reduce oven temperature to 350 degrees F.

Bring broth to a rolling bowl in a large saucepan.

Combine rice, chicken, oregano, basil and garlic in a 20x12x4-inch hotel pan. Place on oven rack, pour boiling broth over rice, stir until well blended. Cover tightly with lid or heavy duty foil, making sure the edges are tightly sealed. Bake 1 hour or until rice is just tender and liquid has evaporated.

Remove from oven, Stir in the pepper mixture and any browned bits, remaining oil, salt, and pepper. Stir until well blended.

Makes about 24 cups total. Serves 24; 1 cup per serving.
Nutrition Facts
Serving

1 cup

Calories

330

Total Fat

10g

Saturated Fat

2g

Trans Fat

0g

Cholesterol

75mg

Sodium

800mg

Carbohydrates

39g

Dietary Fiber

2g

Sugar

3g

Protein

19g