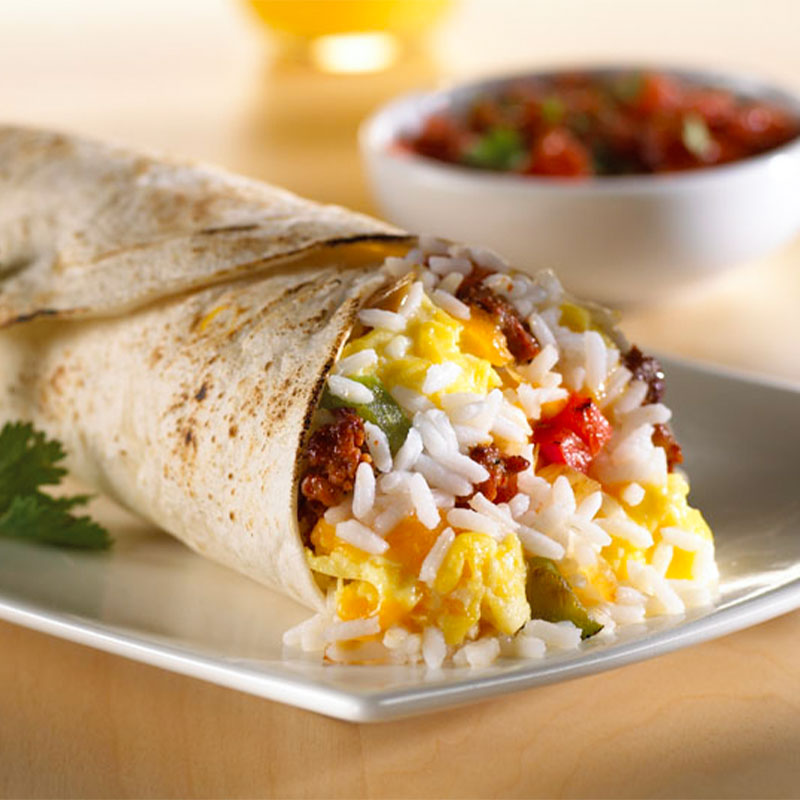 Great Day Rice Wrap (For 50+)
Recipe developed for USA Rice by Chef Cyndie Story, PhD, RD, CC.
Servings

50

Serving Size

1 wrap
Ingredients
7 cups pork or turkey breakfast sausage pieces, frozen

3 quarts ½ cup bell pepper, red or green, fresh, diced

6¼ cups yellow onions, fresh, diced

¼ cup garlic, fresh, minced

2 quarts whole eggs, fluid

1 cup water

2 cups green onions (scallions), diced

1¾ cup reduced fat cheddar cheese, shredded

2 teaspoons salt, table

2 teaspoons black pepper, ground

3 quarts ½ cup brown rice, cooked

1 cup cilantro, fresh, chopped

50 each 8-inch whole wheat tortillas

Directions
Lightly coat steam table pans with pan release spray. Place 14 oz sausage, 2 lb 10 oz bell pepper, 1 lb onion, and 2 tbsp garlic in each steam table pan (12" x 20" x 2 ½"). For 50 servings: 2 pans; For 100 servings: 4 pans

Bake, uncovered, until onions and peppers are tender-crisp. Conventional oven: 350°F for 15 minutes. Convection oven: 325°F for 10 minutes.

Remove pans from oven.

Add to each pan 1 qt eggs, ½ cup water, 1 cup green onions, 7 ½ oz cheese, 1 tsp salt, 1 tsp black pepper, and 6 ¼ cups cooked rice. Stir to combine.

Cover and place in oven. Bake for 20 minutes or until eggs are set. Critical Control Point: Heat to 165°F or higher for at least 15 seconds.

Remove pans from oven. Sprinkle ½ cup chopped cilantro over each pan.

To serve, place 1 cup (2 scoops of number 8 disher) of the egg and rice filling in the center of each tortilla. Fold one edge of the tortilla over the filling and pull back to distribute the filling. Fold the sides of the tortilla over the ends and roll up like a burrito. Critical Control Point: Hold for service at 135°F or higher.
Nutrition Facts
Serving

1 wrap

Calories

288

Total Fat

9.71g

Saturated Fat

3.22g

Cholesterol

34.18mg

Sodium

623.37mg

Carbohydrates

34.18g

Protein

16.49g