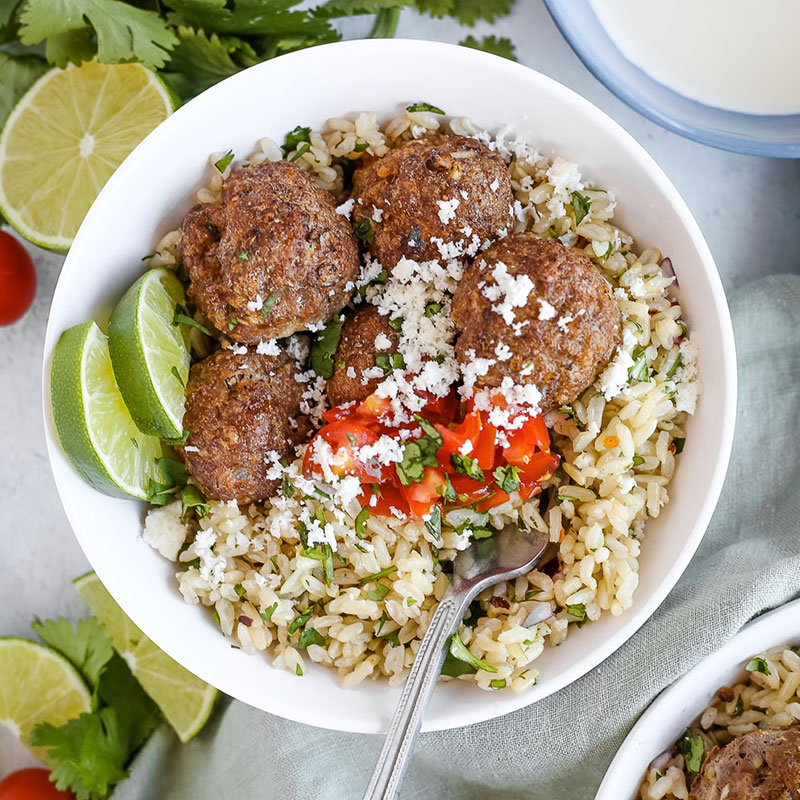 Smoky Chipotle Meatballs with Cilantro-Lime Rice
Looking for something simple to make that is both flavorful and fragrant? Well look no further than these Smoky Chipotle Meatballs with Cilantro-Lime Rice!

This recipe stars U.S.-grown basmati rice and comes to us from our friend Cara Harbstreet of Street Smart Nutrition in partnership with USA Rice.
Servings

4

Prep Time

20 min

Cook Time

40 min

Total Time

1 hr
Ingredients
Smoky Chipotle Meatballs

1 lb ground beef

½ cup bread crumbs

¼ cup minced red onion

1 large egg

2 cloves garlic, minced

½ tablespoon cumin

1 teaspoon ground chipotle

½ teaspoon dried oregano
½ teaspoon kosher salt
Cilantro-Lime Rice

1 cup brown basmati rice

4-5 cups water

¼ teaspoon kosher salt or to taste

2 tablespoon grapeseed oil

2 tablespoon lime juice

⅓ cup finely chopped cilantro

½ teaspoon crushed red pepper flakes
kosher salt and pepper to taste
For Serving

diced cherry tomatoes

grated queso fresco

additional cilantro

crema or sour cream

Directions
To Make the Brown Rice

Gently rinse and drain the uncooked rice and measure the water. Bring the water to a boil, salt the water to taste, then add the rice. Reduce heat and maintain a steady boil for 30 minutes, uncovered.

Drain the cooked brown rice in a colander, then return to the saucepan. Cover, then allow the rice to sit (off heat) for 10 minutes while you finish preparing the meatballs and garnishes.
Remove the lid and fluff with a rice paddle or fork. Add the remaining ingredients for the Cilantro-Lime rice and stir to combine. Season with salt and pepper to taste and serve with the accompanying meatballs and garnishes.
To Make the Meatballs

Preheat the oven to 400 degrees F.

Add all ingredients for the meatballs to a large mixing bowl. With clean or gloved hands. Mix together, being careful to overwork the ground beef to avoid a tough texture.
Once well mixed, shape into golf-ball-sized meatballs (about ¾ oz) and place on a lined baking sheet ½" to 1" apart. Bake for 20 minutes, or until the outside of the meatballs begins to brown and the internal temperature reaches 160 degrees F.
To Serve

Assemble the bowls by serving the Cilantro-Lime Rice topped with ¼ of the prepared meatballs. Top with diced tomatoes, additional cilantro, grated queso fresco, and crema or sour cream if desired. Serve immediately.

Recipe Notes
If using a rice cooker, reduce the amount of water to 1¾ cups. Add the water, rice, and salt to the bowl of the rice cooker and follow the settings/directions for brown rice (adjust cook time as needed).

This dish is great for leftovers when you double the batch!