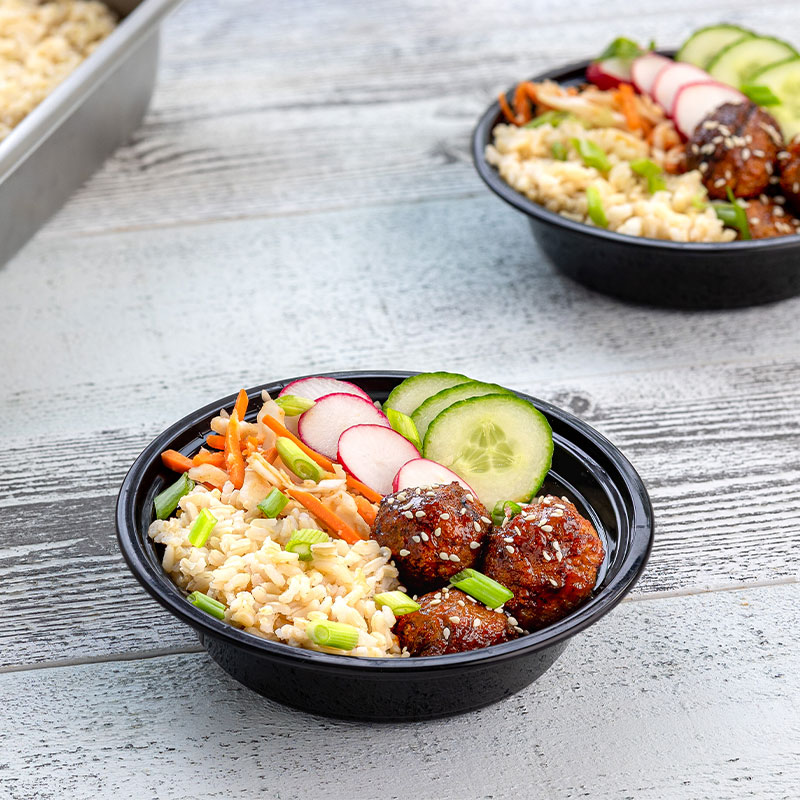 Korean Meatball Rice Bowl
This Korean BBQ rice bowl is a delicious balance of flavors and textures that students will love. Sweet and spicy meatballs are paired with U.S.-grown brown long grain rice, crunchy vegetables, and a quick kimchi that really makes this dish special.

This tasty K-12 school recipe was created for us by our friend Chef Sam Cowens-Gasbarro. Click on the PDF below to download the full recipe with crediting from the USDA Food Buying Guide recipe analysis workbook (RAW).
Ingredients
6 ¼ pounds brown long grain rice, dry
6 ¼ quarts, water
Korean BBQ Sauce and Meatballs

1 cup brown sugar, packed

1 cup soy sauce, less sodium

2 tablespoons apple cider vinegar

1 ½ tablespoons gochujang paste

2 tablespoons sesame oil

1 tablespoon ginger, ground

1 tablespoon garlic, granulated

3 tablespoons cornstarch

3 tablespoons water
8 pounds, 2 ounces (200) Meatballs, turkey, plain or savory
Quick Kimchi Sauce

2 tablespoons sriracha

1 cup apple cider vinegar

2 tablespoons garlic, granulated

2 tablespoons ginger, ground

2 tablespoons white sugar, granulated

4 cups pears, diced or sliced, drained

1 ¼ pound cabbage, shredded
1 pound matchstick carrots
Bowl Toppings

1 ½ pounds radishes, red, thinly sliced (1/8 cup per portion)

2 pounds cucumbers, english, thinly sliced (1/8 cup per portion)

3 cups, 2 tablespoons scallions, cut on bias

1 cup, 2 teaspoons sesame seeds (optional)
Directions
Rice

Combine rice and water into a 2-inch steamtable pan. Stir to combine. Cover tightly. For 50 servings use 2 pans.

OVEN METHOD: Cook in a 350 °F oven for 45 to 55 minutes.

STEAMER METHOD: Cook in a steamer for 30 to 40 minutes.

CCP: Heat to 135 °F for at least 15 seconds.

Remove from oven or steamer and let stand for 10 to 15 minutes.
Remove cover; fluff rice with a fork before serving. CCP: Hold warm, above 135 °F for service
Korean BBQ Sauce and Meatballs

Combine brown sugar, soy sauce, vinegar, gochujang paste, sesame oil, ginger, and garlic.

Bring to a boil. Simmer until sauce thickens slightly.

Make a slurry by mixing cornstarch and water. Stir into sauce and bring to a boil.

For meatballs: cook according to package instructions.
Remove from oven and toss with the Korean BBQ sauce: return to oven for 5 minutes. Remove from oven and hold, covered, in warmer until service.

CCP: Heat to 165 °F or higher for at least 15 seconds.
CCP: Hold warm, above 135 °F for service.
Quick Kimchi Sauce

Mix sriracha, vinegar, garlic, ginger, sugar, and pears. As you are mixing, break up pears into small pieces. Stir to combine all ingredients.

Combine the cabbage and shredded carrots in a bowl. Toss the cabbage and carrot mixture with the quick kimchi sauce.
Cover and place in refrigerator. Let sit for 2 hours or overnight. Use within 7 days. CCP: hold cold for service, below 41 °F
Bowl Assembly

Place 1 cup of brown rice in each serving bowl.
-In one quadrant of the bowl, top with 4 glazed meatballs.
-In a second quadrant place ¼ cup (#16 scoop) of kimchi.
-In a third quadrant place 1/8 cup of thinly sliced radishes and 1/8 cup of sliced cucumbers.
Garnish with 1 tablespoon of thinly sliced scallions and 1 teaspoon of sesame seeds per bowl and serve immediately.
Recipe Notes
One portion provides: 2 oz. eq. grain, 2 oz. eq. meat/meat alternate, ½ cup vegetable

Often kimchi is made with Napa cabbage.

Starting with hot water in cooking rice will reduce cooking time.

Samantha Cowens-Gasbarro, Healthy School Recipes
Nutrition Facts
Calories

400

Total Fat

7g

Saturated Fat

2g

Cholesterol

45mg

Sodium

620mg

Carbohydrates

65g

Dietary Fiber

4g

Protein

19g