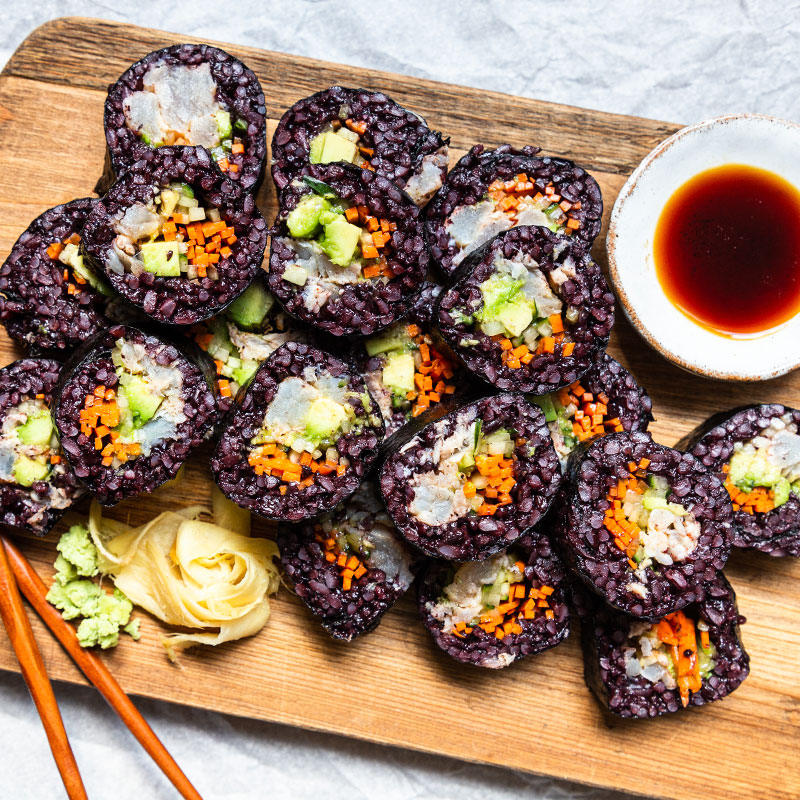 Purple Sushi
Bring some color to your table with purple sushi! Our simple sushi recipe stars U.S.-grown purple rice and is completely customizable.

This aromatic rice recipe comes to us in partnership with TheFeedfeed.
Servings

4-5

Prep Time

35 min

Cook Time

20 min

Total Time

55 min
Ingredients
Rice

1½ cups purple rice

3 cups water

3 tablespoons rice wine vinegar

2 tablespoons sugar
½ teaspoon salt
Roll Ingredients

4-5 nori sheets (seaweed)

1½ cups chopped vegetables

Optional garnish- sesame seeds, soy sauce/tamari, pickled ginger, wasabi, and
microgreens.
Directions
Rice & Vegetables

Add rice, a pinch of salt, and water to a pot. Bring to a boil, then reduce to a simmer for about 35 minutes, or until the rice is tender.

In a small saucepan, add vinegar, sugar and salt and heat over medium heat stirring occasionally until sugar and salt are dissolved. Set aside in fridge until rice is ready.

Once the rice is cooked, turn off the heat and stir in the cooled vinegar mixture without overmixing. It will dry as heat is released from stirring lightly. Rice mixture will be sticky and dry when ready. If possible, let the rice cool before making the sushi rolls.
Chop vegetables into thin pieces.
Roll Assembly

Place a sheet of nori down on a cutting board, shiny side down. Add on about ¾ of a cup of the cooled purple rice on the middle part of the sheet.

Add on 6 pieces of thinly sliced vegetables.

Dip your finger in water and wet the top edge of the nori sheet. This will help the nori stick together when you roll it.

Roll sushi roll as tightly. A sushi mat can be used here, but it can also be done without one.

When the sushi is rolled, let it rest for about 5-10 minutes so that the nori can stick together.

Repeat the above steps until you are out of your ingredients.

Cut the sushi with a damp sharp knife into slices.

Garnish with sesame seeds, soy sauce/tamari, pickled ginger, wasabi, and microgreens (if desired).