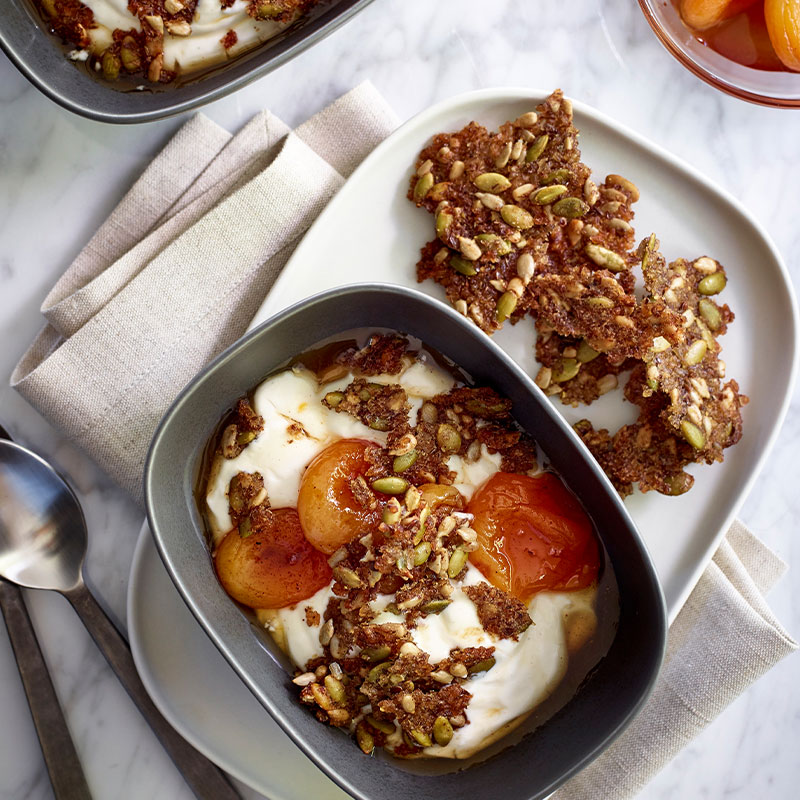 Sweet and Salty Brown Rice Granola
Granola is the best breakfast accessory and portable snack. This granola version incorporates brown rice in an unexpected way, extending its versatility as the perfect crunchy topper for a yogurt bowl or salad; a delicious all-day snack; or as a great addition to a cheese board. Bake once; use multiple ways.
Serving Size

½ cup yogurt; ¼ cup granola; 2 tablespoons apricot
Ingredients
¼ cup flax meal

¼ cup maple syrup

3 tablespoons light brown sugar

1 tablespoon olive oil

1 teaspoon kosher salt

1 teaspoon vanilla

½ teaspoon cinnamon

2 cups cooked long grain brown rice

½ cup sunflower seeds
½ cup pumpkin seeds
Stewed Apricots

2 cups dried apricots

2 cups water

1 cup maple syrup

1 teaspoon cinnamon
Directions
Granola:

In a large bowl, whisk together flax, maple, sugar, oil, salt, vanilla and cinnamon. Let sit for 10 minutes.

Pulse rice in a food processor until crumbly but not pasty. Stir rice, sunflower and pumpkin seeds into flax mix. Scrape mixture onto two parchment lined baking sheets; spread into 1/8-inch layer with a small rubber spatula.
Bake at 300°F for 40 minutes, with caution breaking off any hot granola pieces that are golden brown and set aside to cool. Place baking sheets back into oven and bake further 10-15 minutes until golden brown. Granola will crisp as it cools. Let cool completely. Store in an airtight container for up to 4 days.
Stewed Apricots:

Simmer apricots, water, maple syrup and cinnamon in a small saucepan for 45 minutes to 1 hour; let cool. Cover and keep refrigerated until ready to use.

Serve granola over yogurt and stewed fruit.

Makes 3 cups (750 mL) granola and 2 cups (500 mL) stewed apricots

Recipe Notes
If granola becomes soft place back into oven to toast until crisp again.
Nutrition Facts
Calories

310

Total Fat

8g

Saturated Fat

2g

Cholesterol

8mg

Sodium

190mg

Carbohydrates

50g

Dietary Fiber

3g

Sugar

37g

Protein

11g