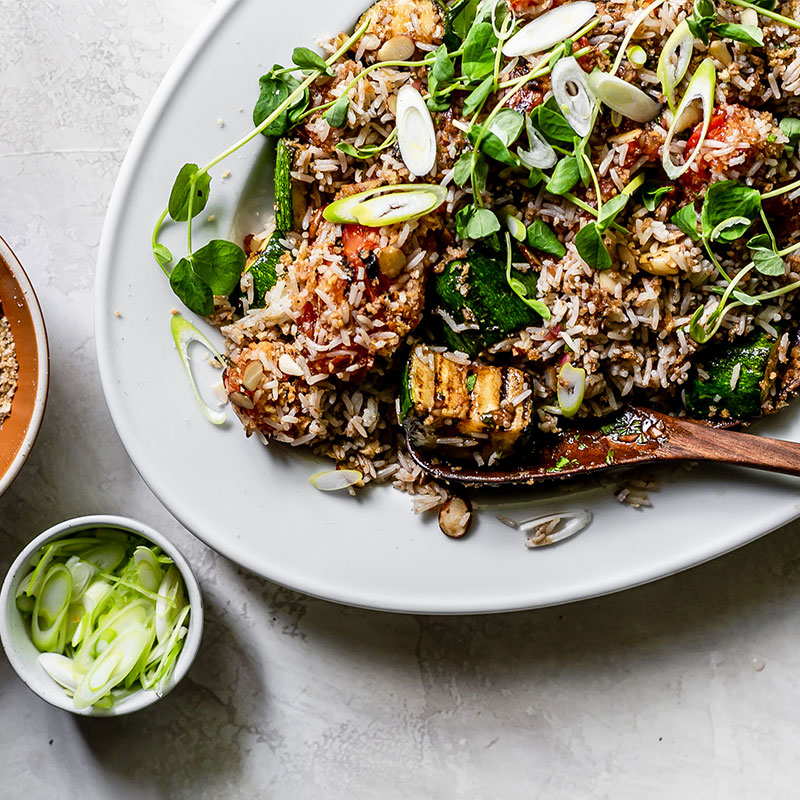 Herby Rice Salad with Market Vegetables
Who said salads have to be made up of greens? We think flavor, texture, and fill are the makings of a great salad and this Herby Rice Salad with Market Vegetables checks all those boxes! This recipe comes to us from our friend Ashley Cuoco in partnership with The FeedFeed and USA Rice.
Servings

6

Prep Time

13 min

Cook Time

21 min

Total Time

25 min
Ingredients
Rice & Vegetables

2 cups cooked U.S.-grown Basmati

¼ cup seasoned breadcrumbs

2 zucchinis, halved lengthwise & cut into 1-2' slices

2 tomatoes, quartered

6 garlic cloves, peeled and smashed

½ cup micro pea shoots

¼ cup scallions (white and green parts only), thinly sliced

Herb-Shallot Vinaigrette

1 ½ tablespoons balsamic vinegar

½ small shallot, finely minced

½ teaspoon fresh parsley, finely chopped

½ teaspoon fresh basil, finely chopped

½ teaspoon agave or cane sugar

½ tablespoon coarse Dijon mustard

½ teaspoon Worcestershire sauce

kosher salt & freshly ground pepper

¼ cup extra virgin olive oil
Directions
In a large serving bowl whisk vinegar, shallot, herbs, agave, mustard, Worcestershire, salt and pepper. Anchor your bowl with a kitchen towel and slowly drizzle in ¼ cup olive oil, continuously whisking until incorporated.

Preheat oven to 350F. Spread breadcrumbs and almonds evenly onto a baking sheet. Bake about 6 minutes, tossing with a spoon and turning pan halfway through cooking time, until golden and fragrant.

Brush zucchini, tomatoes and garlic cloves with olive oil. Sprinkle all sides with a few generous pinches of salt. Heat a grill basket or cast iron-grill pan over medium heat. Cook zucchini and tomatoes (in batches, if necessary) until tender and charred, about 3 minutes per side. Add garlic for the last 3 minutes of cooking time.

Add rice, roasted vegetables, breadcrumbs and almonds to serving bowl with vinaigrette. Toss well to coat in dressing. Top with pea shoots and scallions to serve.