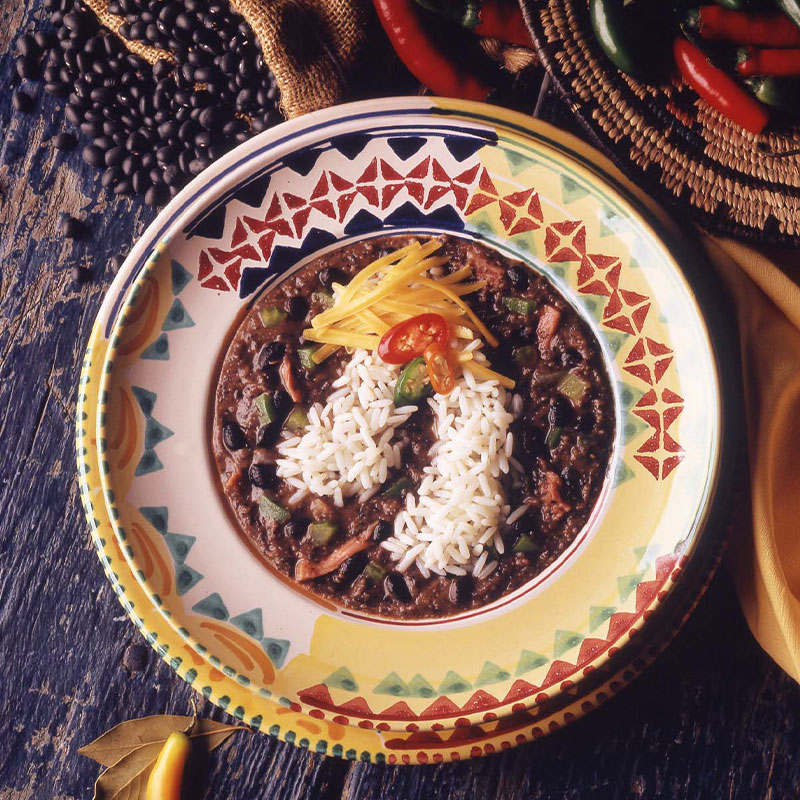 Black Bean Soup with Rice
Ingredients
1 pound dry black beans, sorted and rinsed

1 (14.5-ounce) whole tomatoes

1 cup celery, sliced

1 cup onion, chopped

1 cup green pepper, chopped

1 smoked ham hock or ham bone

4 cloves garlic, minced

1 bay leaf

½ teaspoon ground red pepper

½ teaspoon thyme leaves

4 cups low-sodium chicken broth

4 cups water

Salt and ground black pepper to taste

4 cups hot cooked rice

½ cup cheddar cheese, shredded

½ cup sour cream

½ cup picante sauce
Directions
Cover beans with water; soak overnight.


Drain beans and place in large saucepan or Dutch oven. Add tomatoes with juice, celery, onion, green pepper, ham hock, garlic, bay leaf, red pepper, thyme, chicken broth and water; bring to a boil. Reduce heat and simmer, partially covered, 4 to 5 hours or until beans are tender; stir occasionally. Add more water if necessary, during simmering. Remove and discard bay leaf. Remove ham hock and cut meat off bone; return meat to beans.


Puree half of soup in blender or food processor; return to pan. Season soup with salt and black pepper. Serve soup with rice, cheese, sour cream and picante sauce.
Nutrition Facts
Calories

423

Total Fat

8g

Cholesterol

24mg

Sodium

328mg

Carbohydrates

67g

Dietary Fiber

9g

Protein

21g