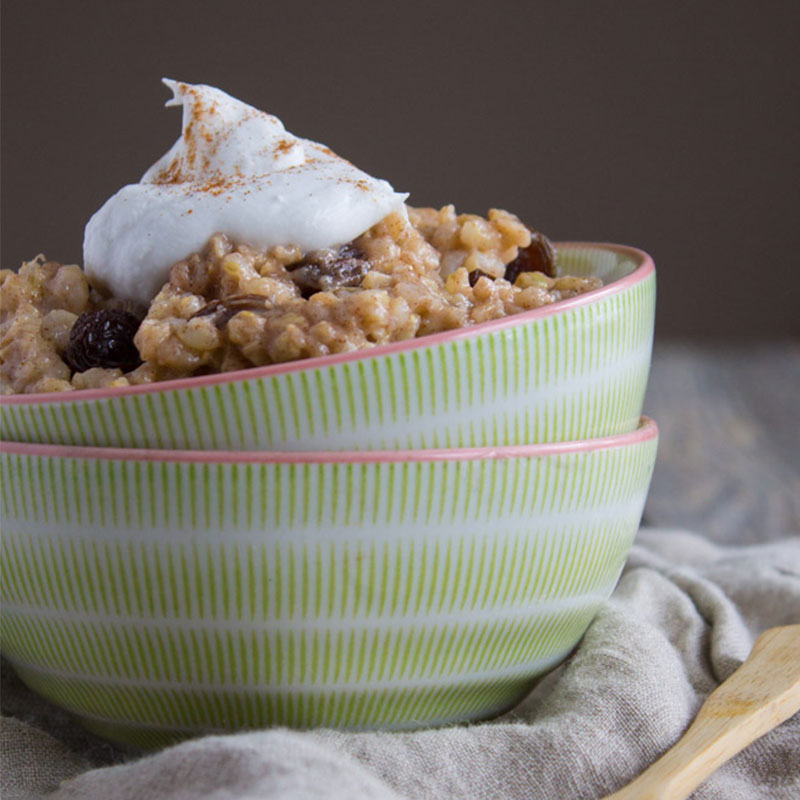 Servings

4

Serving Size

½ cup

Prep Time

5 min

Cook Time

3 hr 30 min

Total Time

3 hr 35 min
Ingredients
For Rice Pudding

1 cup U.S.-grown short grain brown rice

1 can light coconut milk

2 cups water

2 tablespoons maple syrup

1 teaspoon vanilla

2 teaspoons cinnamon

½ cup raisins

slivered almonds (optional)

coconut whipped cream* (optional)

For Coconut Whipped Cream (optional)

1 can full-fat coconut milk

1 teaspoon maple syrup (optional)
Directions
For Coconut Brown Rice Pudding

In a slow cooker, add rice, coconut milk, water, syrup, and vanilla and cook on low for 3 ½ hours or until liquid is absorbed.

Stir in cinnamon and add more as desired to taste. Stir in raisins.
Top with coconut whipped cream and/or slivered almonds (optional).
For Coconut Whipped Cream (optional)
Store the can of coconut milk in the fridge overnight.
Place a medium-sized mixing bowl in the freezer for five minutes or so before you're ready to whip the cream.
Open the can of coconut milk and discard the semi-clear liquid that's sitting at the top.
Add remaining coconut milk to the chilled mixing bowl and using an electric mixer, whip until stiff peaks begin to form (about 5 minutes).
Add maple syrup to sweeten and whip to combine (optional).
Nutrition Facts
Serving

½ cup

Calories

160

Total Fat

3.5g

Saturated Fat

2g

Trans Fat

0g

Cholesterol

0mg

Sodium

20mg

Carbohydrates

34g

Dietary Fiber

2g

Sugar

10g

Protein

2g