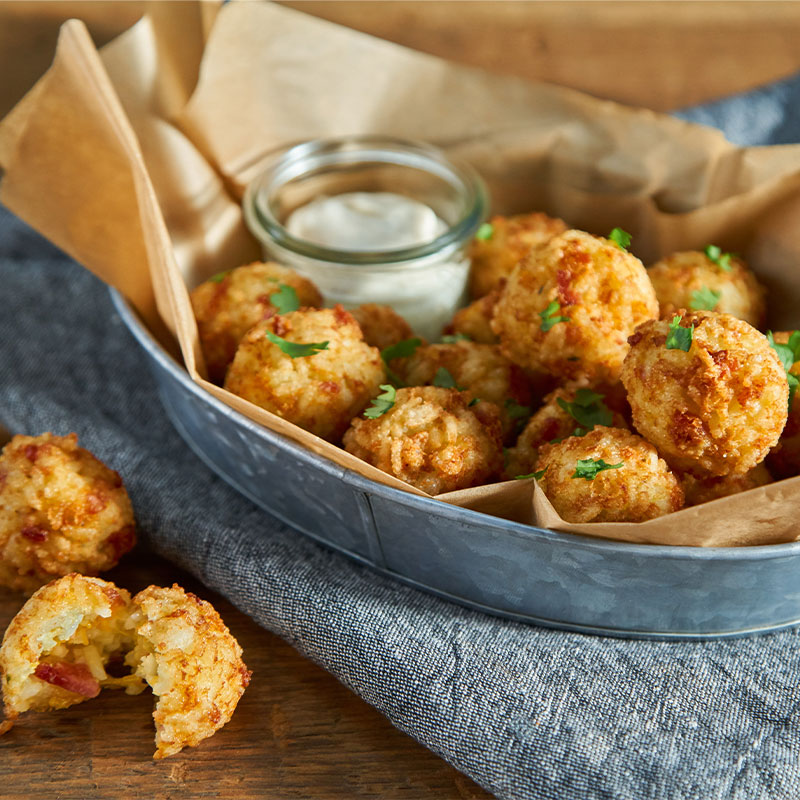 Ingredients
1 cup bacon, cooked, chopped

3 cups mild cheddar cheese, shredded

½ cup green chili hot sauce, cholula

2 quarts (8 cups) long grain rice, cooked, cooled (use 10% extra water to cook rice)

as needed rice flour

⅓ cup black pepper aioli

½ cup scallion, ¼" slice on a bias
Black pepper aioli

2 cups mayonnaise

2 teaspoons black pepper, freshly ground

1½ teaspoons kosher salt

1 tablespoon lemon juice

Directions
For black pepper aioli, whisk together mayonnaise, black pepper, salt and lemon juice. Place in a refrigerator until time to serve.


For tots, fold bacon, cheese, hot sauce and rice together.


Lay 1 inch of rice mixture onto a sheet tray lined with plastic wrap.


Cover rice with plastic wrap and place another same size sheet tray with around 2-3 lb of added weight on top of it. Let press for 2-3 hours in refrigerator or until rice completely cools.


Remove rice from refrigerator and uncover. Cut rice into 1" x 1" cubes and toss in rice flour to coat.


Fry in 350˚ oil until light golden brown.


Serve tots with black pepper aioli for dipping. Garnish with sliced scallions.