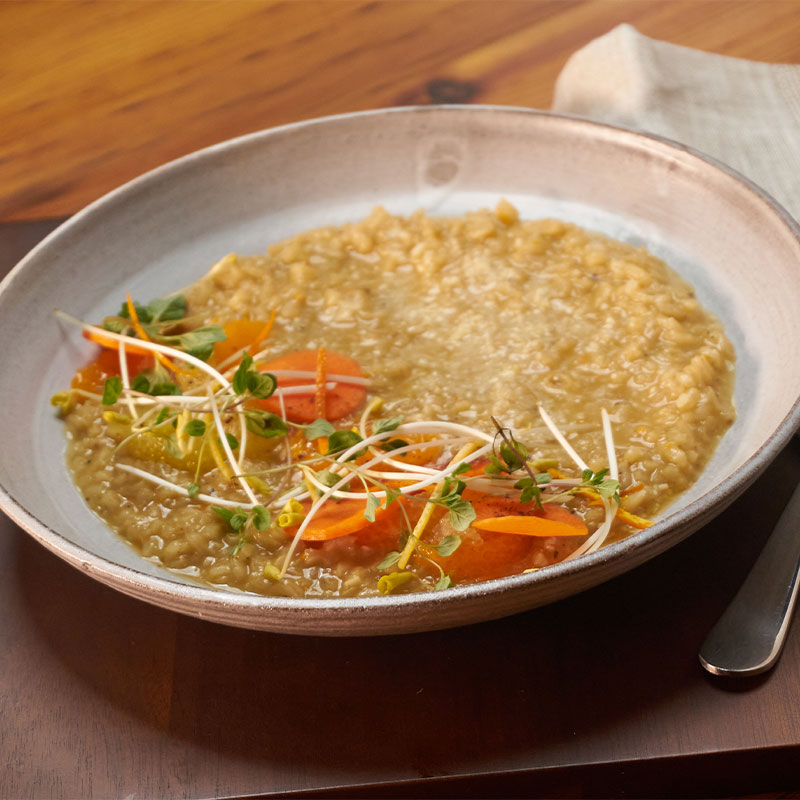 Winter Citrus Risotto
Taste the season with our Winter Citrus Risotto. This seasonal recipe features U.S.-grown short grain rice and comes to us from our friend Chef Hari Cameron.
Servings

4

Serving Size

1 bowl
Ingredients
5 cups vegetable stock

4 shallots, peeled and minced

2 garlic cloves

2 carrots medium sized peeled and brunoise cut

1 small orange-3- to 4-inch strip of zest (from the orange part only)

¼ cup orange juice

1 lemon-3- to 4-inch strip of zest (from the yellow part only)

¼ cup lemon juice

2 tablespoon olive oil

1½ cups short grain rice

1 cup sauvignon blanc

3 tablespoon butter

1 cup parmesans cheese grated

½ teaspoon sichuan pepper toasted and ground

20 mint leaves

8 finger limes

1 peeled carrot for thinly slicing for garnish

1 mandarin orange sections for garnish
Directions
In a medium saucepan, heat the stock, citrus zests over low heat.

In a round-bottomed saucepan, heat the oil over medium-high for 2-3 minutes. Add the shallot, garlic, and carrots. Cook for 4-5 minutes stirring with a wooden spoon.

Once vegetables are soft and fragrant add the rice and pepper. Cook until the rice is toasted about 2 minutes.

Once the rice is toasted add wine and cook until it is fully absorbed about 3 to 4 minutes.

Add a ladle of stock. Cook, stirring constantly, until the stock is almost completely absorbed. Continue adding more stock by the ladleful, stirring constantly until the stock is absorbed between each addition (Make sure when you add the stock, to stir vigorously to release the starch from the rice, which will make the risotto creamy).
Once the Risotto is tender bit still has texture stir the butter into the risotto. Add the Parmesan and the citrus juices and stir until the cheese melts. The risotto should be pourable and very creamy. Serve in shallow bowls.

Garnish the risotto with a salad of mint leaves, finger lime pearls, raw shaved carrot, and orange supremes.