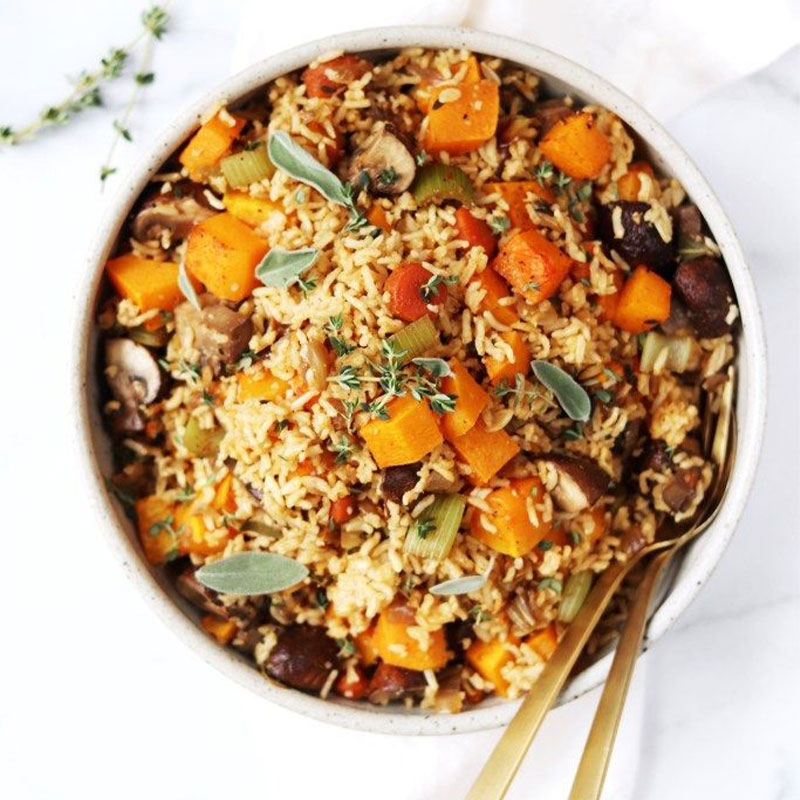 Vegan Brown Rice Stuffing with Butternut Squash & Mushrooms
Make room on your plate for this holiday staple! This Vegan Brown Rice Stuffing is packed with the comforting savory flavors you love and is gluten-free!

This recipe comes to us from our friend @DaisyBeet in partnership with the Feedfeed and USA Rice.
Ingredients
1½ cups brown long grain rice

3 cups vegetable broth

large butternut squash, peeled and diced into 1-inch cubes

2 tablespoons olive oil, divided

1 white onion, diced

5 garlic cloves, minced

1 cup celery, sliced

1 cup carrots, chopped

1 box baby bella mushrooms, quartered

3 tablespoons thyme leaves

3 tablespoons sage, chopped

salt

pepper
Directions
Cook brown rice with vegetable broth according to package instructions.

Preheat oven to 400 degrees. Line a baking sheet with parchment paper.

Toss butternut squash with 1 tablespoon olive oil, a dash of salt and pepper, and 1 tablespoon thyme. Roast for 20-25 minutes, until fork tender.

While the rice and butternut squash cook, prepare the stovetop vegetables.

Heat the remaining olive oil in a large frying pan on medium heat.

Add the onion and a dash of salt and pepper. Cook for 2-3 minutes until translucent.

Add garlic and cook for another 1-2 minutes.

Add celery and carrots with more salt and pepper. Stir and cook for 5-8 minutes, until carrots begin to soften.

Add mushrooms, the remaining thyme, sage, and salt and pepper. Cook for about 15 minutes, until the mushrooms brown and everything starts to caramelize a little, leaving little brown bits at the bottom of the pan.

Use your spoon to scrape the brown bits into the vegetable mixture, because it adds a lot of savory flavor.

Once everything is done cooking, Combine all the ingredients in a large mixing bowl.

Stir to combine and add more salt and pepper to taste.

Transfer to a serving dish and serve warm with fresh herbs for garnish.