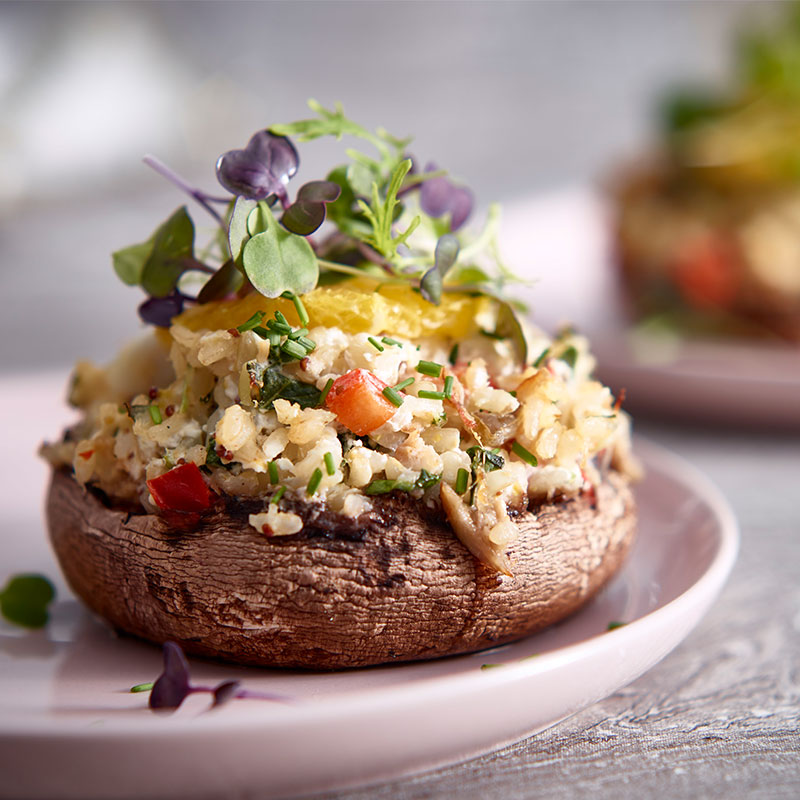 Crab and Rice Stuffed Portobellos
Appetizer? Side dish? Main? This easy and delicious Portobello recipe is so versatile it's perfect for any occasion. The light cheese mix gently binds the flavorful crab and rice, creating a textured stuffing that perfectly caps off this mushroom. Oh, and, it's gluten-free.
Servings

4-8

Serving Size

1 stuffed mushroom
Ingredients
8 large Portobello mushrooms
2 ½ cups cooked U.S. medium grain brown rice
1 ½ cups crab meat
1 cup chopped baby kale
½ cup diced red pepper
½ cup muffuletta or hot olive pickle mix
½ cup light cream cheese
½ cup light goat cheese
2 tablespoons grainy mustard
1 large navel orange
Garnish
2 cups microgreens
2 tablespoons finely chopped chives
Directions
With a spoon, scrape gills off mushrooms; remove stems and discard. Arrange mushrooms gill side up on a parchment lined baking sheet.
In a large bowl, combine rice, crab, kale, pepper, muffuletta, cream cheese, goat cheese, and mustard. Fill each mushroom with a generous ½ cup portion.
Peel and slice orange crosswise into 8 thin rounds; top each mushroom with 1 slice.
Bake at 400 F for 25-30 minutes until mushrooms have wilted and filling has heated through.
Garnish with microgreens and chives.
Nutrition Facts
Serving

1 stuffed mushroom

Calories

250

Total Fat

11g

Saturated Fat

3g

Cholesterol

25mg

Sodium

490mg

Carbohydrates

27g

Dietary Fiber

4g

Sugar

7g

Protein

13g