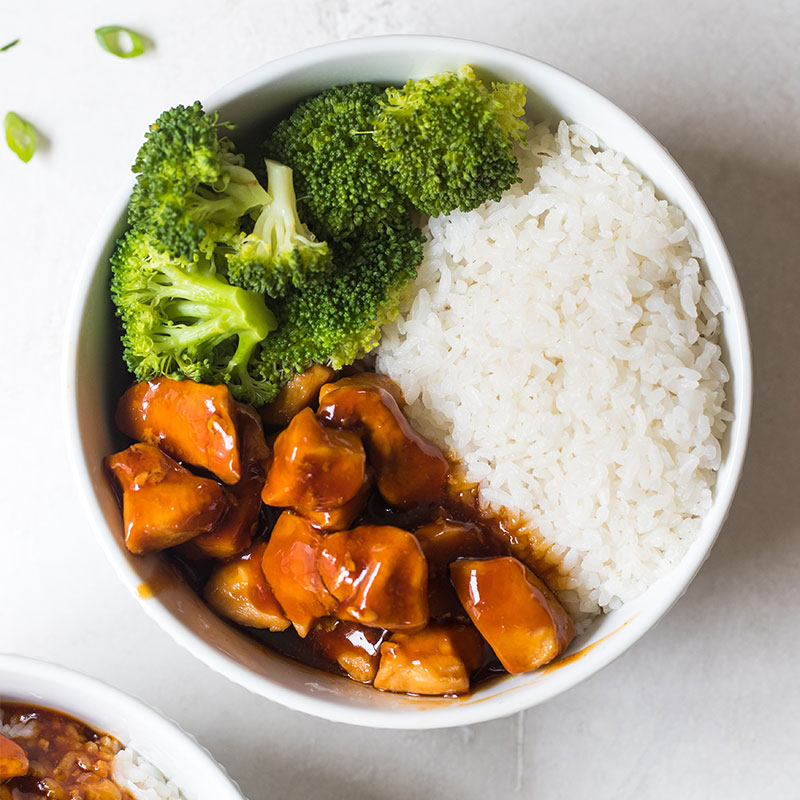 Spicy Honey Chicken Rice Bowls
These easy-to-make Spicy Honey Chicken Rice Bowls are packed with flavor and only takes 30 minutes to make!

This recipe features U.S.-grown Medium Grain Rice and comes to us from our friend Tawnie Graham of Kroll's Korner.
Servings

4

Serving Size

1 bowl

Prep Time

10 min

Cook Time

20 min

Total Time

30 min
Ingredients
1 cup medium grain rice

2 chicken breasts (boneless & skinless), thawed

1 head broccoli, roasted or steamed

¼ cup green onions, diced
1-2 tablespoons olive oil
Spicy Honey Sauce

½ cup soy sauce

¼ cup honey

2 tablespoons sriracha

1 tablespoon mirin or rice wine (not rice vinegar or rice wine vinegar)

1 teaspoon garlic, minced

½ teaspoon ginger, minced

1 tablespoon cornstarch

1 tablespoon water
Directions
Cook the U.S.-grown medium grain rice. Follow the package directions or us this easy stove top method: Combine 1 cup medium grain rice with 1 ½ cups water and a dash of salt in a small saucepan. Heat to boiling; stir once or twice. Reduce the heat; cover and simmer for 15 minutes or until most of the water is absorbed. Fluff with fork.

Make the sauce. Combine soy sauce, honey, Sriracha, mirin, garlic and ginger in a bowl or measuring cup. Whisk until smooth.

Prepare the chicken. Cube thawed, boneless skinless chicken breasts into bite sized pieces.

Heat olive oil in a nonstick frying pan. Add half of the chicken and cook until nicely browned. Pro tip: don't cook all of the chicken at once. The pan will get crowded and it won't stay hot enough. We want tasty browned chicken pieces! Place first half of chicken on a paper towel lined plate and cook the rest of the chicken.

Pour all of the chicken and the sauce into the pan to bring to a simmer.

Thicken sauce. Mix the cornstarch & water together and whisk into the sauce.

Divide rice evenly into bowls. Top each bowl with chicken and broccoli (or veggie of choice). Garnish with green onions if desired. Enjoy!
Nutrition Facts
Serving

1 bowl

Calories

456

Total Fat

4g

Saturated Fat

1g

Cholesterol

72mg

Sodium

2059mg

Carbohydrates

71g

Dietary Fiber

5g

Sugar

21g

Protein

35g